Used ambulances are commercial vehicles that are made to last. Ambulances have a top of upsides for van life, with few drawbacks. These robust vehicles often come with diesel engines, they benefit from regular fleet maintenance, and they offer sturdy construction and built-in outside storage options.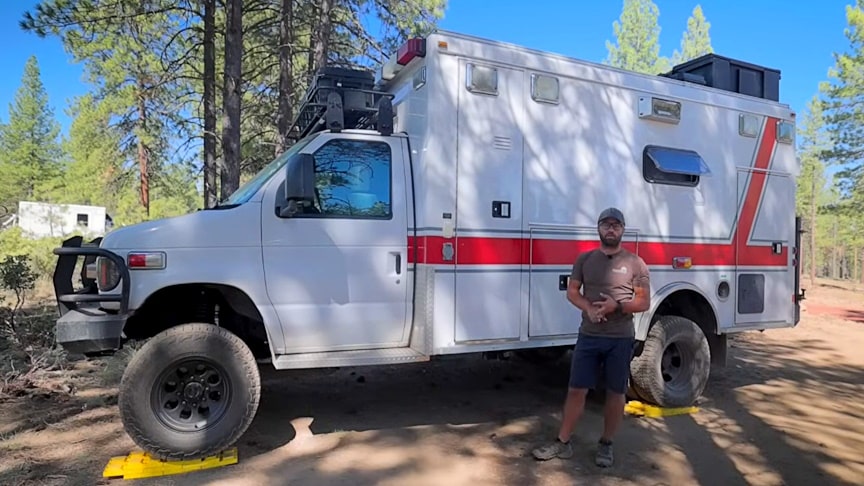 source.image: Tiny Home Tours
Alex & Crystal transformed their ambulance into a beautiful home on wheels, perfect for off roading. After six months of living on the road, they finally have nomadically living down pat, & their clever usage of storage & organized drawers show it. Their ambulance features a kitchen with butcher block countertops, bench seating, bathroom, & a fixed bed.
Old ambulances come with lots of benefits and a few drawbacks.They are more affordable to buy than a Sprinter and other popular van models.Not many people purchase them at the moment, so they aren't hard to find.The box shape of the cab is easy to fit out and pacious – ideal for full-time campers.
Advertisement
They've been well-maintained during their service years.The roof is rather big, so you can fit lots of solar panels and a deck.There's already a lot of storage installed, such as cabinets.Ambulances come with wiring, seating, and more.The cab is well-insulated.Inside is a surprisingly spacious room with baltic birch cabinetry with marine latches, a stainless steel sink, an induction cook top in the kitchen.