This is a twin cylinder nitro engine for those of you who want a nitro RC engine but fully functional, this 2-cylinder Nitro engine is the best choice. The engine is SEMTO ENGINE ST-NF2 DIY Build a Nitro 4 Stroke 2 Cylinder.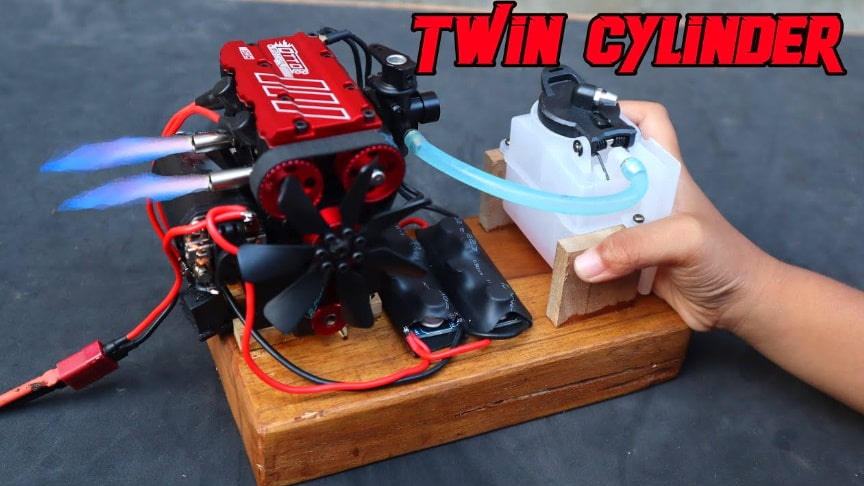 source/image: Rini Anita
The engine is equipped with a 480 brushed DC motor, and it is more suitable to use two ignition modules directly. The engine model with a realistic appearance and red sport elements meaning thunderbolt movement is closer to a real engine.
Treated by aluminum CNC processing and oxidation coloring, the delicate engine features a meticulous surface, compact structure and lightweight body.The timing structure of a dual synchronous belt pulley greatly reduces the risk of gear jumping in high-speed operation.
Advertisement
Enjoy easier adjustment and more sensitive throttle response thanks to the brand-new signal carburetor.You can walk through the internal structure and mechanical operating principle of the machine while enjoying the fun of DIY assembly with desktop machine models.
Engine Type: Nitro Interal Combustion Engine Model
Valve Mechanism: SOHC
Displacement: 7 (3.5*2)cc
Cylinder: Inline Double-cylinder
Stroke: Four Stroke
Cyilinder Diameter: 16.6mm
Stroke: 17.00mm
Speed: 4000-16000rpm
Power: 0.6ps
Cooling Mode: Air Cooling
Lubrication Mode: Mixed Oil Lubrication (add grease)