We made an entire secret room; including a wall, a wardrobe, and a secret lock system!This project was meant to separate a long room in Josh's finished basement. The intent was to make a non-load bearing wall that cut the long room into a bedroom in the front and a secret office space in the back.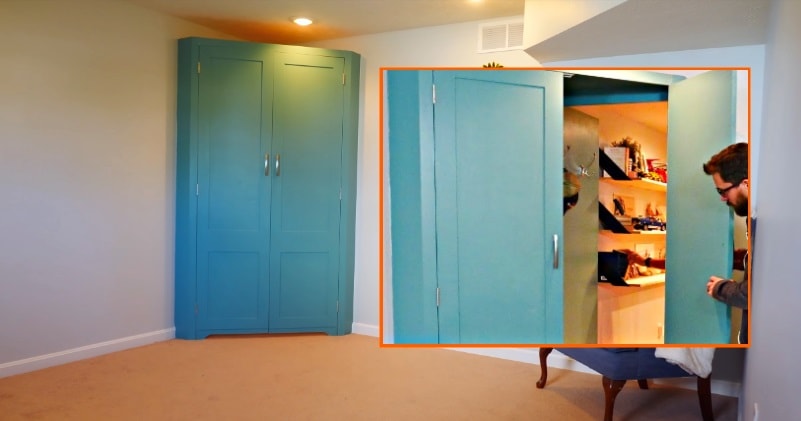 source/image(PrtSc): I Like To Make Stuff
To make it fun, Josh designed a corner wardrobe that you could walk through. To keep out little kids and to add to the secret allure, the doorway would lock and unlock with a hidden switch.Building the wall is pretty straightforward.read more: I Like To Make Stuff
We used 2×4 studs cut to match the height of the room and span from one side to the other. I also had to leave enough room on one end for the doorway. The wall studs were nailed in place every 16 inches and secured to the floor using Tapcon anchors.To hide the entire opening, we designed a corner wardrobe with two doors and some hanging hooks on the inside.
Advertisement
We researched the risks of placing a new wall over the carpet, and Josh decided that it was a better option than removing the carpet in that area and adding new tack strips. =To hide the seams, we used 1×4 boards to make "trim" on the inside and 1x6s to jut out from the wall and support the front doors. Josh used 1/4″ plywood strips to add decorative trim to the single panel doors to add some character. The door panels were cut in one piece and hinged to the frame.via: I Like To Make Stuff