This majestic bike with unit engine gearbox construction has been restored recently and is in spectacular condition.Formerly a state-owned armaments manufacturer, Deutsche Werke AG diversified into the production of bedsteads, agricultural machinery and railway rolling stock after The Great War and around 1921 set up Deutsche Kraftfahrzeugwerke AG in Spandau to manufacture motorcycles under the 'Star' brand name. Like BMW, the firm was influenced by Douglas, whose inline 'flat twin' was considered one of the best of contemporary designs, and the first Stars were similar to the British machine.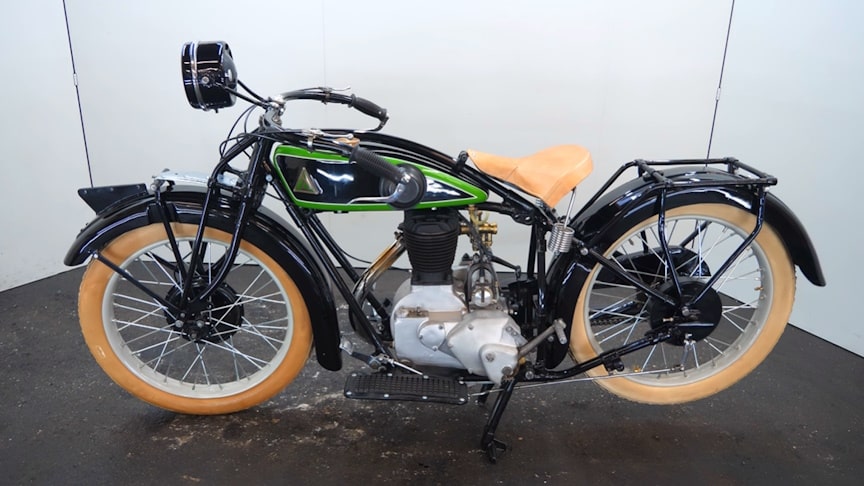 source.image: classic-motorcycle.com
In 1921 H Christiansen was recruited as designer and in 1923 he produced the revised M23 model, the first to be sold as a 'D-Rad'. The following year's M24 was the final revision of the Douglas-style model, which was soon replaced by an entirely new design: the R 0/4. A 496cc single-cylinder sidevalve, the R 0/4 boasted unitary construction of the engine/gearbox and a leaf-sprung front fork and had a top speed of around 56mph.
Well built, reliable and competitively priced, it was a huge success, with 25,500 sold between 1924 and 1927. The R0 / 6 model came onto the market in 1928. Larger cooling fins, pressure spray lubrication, removable cylinder head and 12 HP made this type very popular. Of all motorcycles requiring a driver's license in 1928 in the Greater Berlin area, every fifth bike was a D-bike, although there were up to 100 motorcycle companies in Berlin! As was typical of the time, Deutsche Industrie-Werke AG also tried a load tricycle.
Advertisement
With two front wheels, one rear wheel and an empty weight of 330 kg, 500 kg could be loaded. The large chainring on the rear wheel allowed speeds of 50 km / h to be achieved. A fan ensured that the motor was adequately cooled. Two versions with a flatbed or box body, each with a loading area of 1600 x 920 or 2000 x 920 mm, were in the basic offer. The painted chassis without fenders could be purchased for 1,650 RM. In 1932, motorcycle production was also discontinued. In 1933, Auto Union, which had now been founded, bought the plant. From 1922 to August 1932, around 60,000 D-Rad brand motorcycles were built in Spandau.