The DSF-V12 by Chuan Qi, it's a mini V12 engine, single head over cam type. This model egnine burns gasoline fuel, has a displacement of 50CC. It comes with water cooling, splash lubrication, and could be used on RC applications like tanks, cars, boats.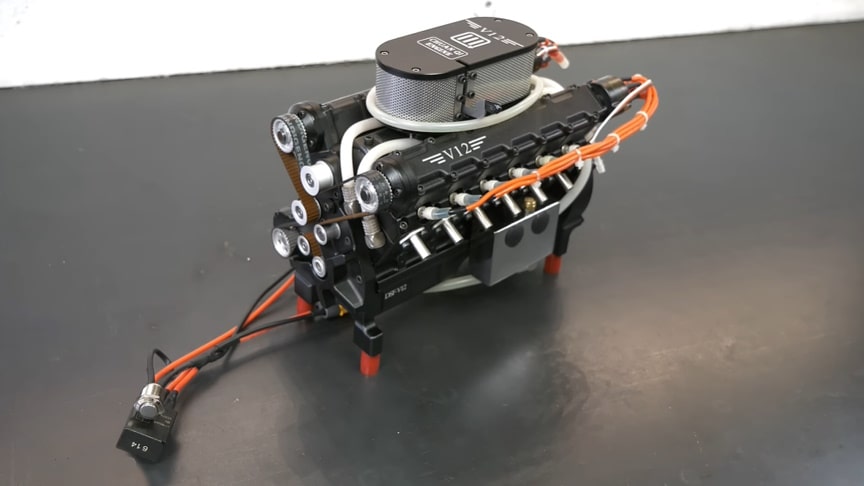 source.image: JohnnyQ90
Gears, crankshaft, camshafts, cylinder sleeve are made of steel.Engine block, pistons, piston rods are made of aluminum alloy.Valve spring is made of spring steel.
Designed for a wide range of applications, the engine can be used to refit large-scale model cars, boats, and tanks, and is also suitable as a desktop DIY engine model to play.
Advertisement
The excellent reliability and working performance of the amazing engine model make it a popular mechanical artifact among high-end collector engine users and it will get more praise from model engine enthusiasts.
FEATURES
Gas Engine
Single Head Over Cam Type
Stroke: 18mm
Bore: 16.68mm
Displacement: 49.89CC
Firing Order: 1-12-5-8-3-10-6-7-2-11-4-9
Rev Speed: 2200 ~ 11000rpm
One-Piece Formed and Fully Supported Crankshaft
2 Rings Piston
Dry Cylinder Sleeves
Water Cooled by a Gear Pump
Brushed Motor Starter
Stainless Steel Oil Separator
Weight: 4kg