The Electra Meccanica Solo EV is an electric vehicle, but it only seats one. It has 82 horsepower and a fairly decent range of 100 miles, and it can go 0–60mph in eight seconds, but it will take three hours to charge on a Level 2 charger. Transportation reporter Sean O'Kane got to test drive the tiny vehicle.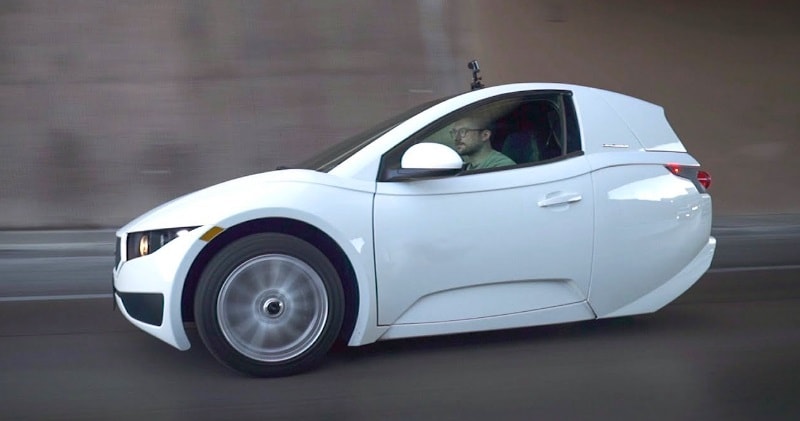 source/image: The Verge
The SOLO features an 82 hp (61 kW) AC motor rated for 128 ft-lbs (174 Nm) of torque and top speed of 82 mph (132 km/h). The 17.3 kWh battery has been slightly increased from the previous 16 kWh battery that the Solo sported when it began production last year, and should be enough for 100 miles (160 km) of range.
It rests on a lightweight "aerospace composite chassis" weighing close to 1,378 pounds (625 kg).It has all wheel disc brakes, as well as an LCD digital instrument cluster, remote keyless entry, power windows, and a stereo with Bluetooth/CD/USB. It also has a rear view backup camera and a front and rear trunk.
Advertisement
Focusing on the creature comforts of more conventional luxury cars, the SOLO includes many features not normally found in motorcycles, including power windows, heated seats, over 10 cubic feet (285 L) of cargo space, and air conditioning.All of this will set you back $19,999 CAD, or approximately $15,400 USD.