A Filipino inventor Kyxz Mendiola has carried out a successful maiden test flight of what he calls a flying sports car .Mendiola used parts from drones to build a prototype electric flying vehicle that could carry one person.The Electric Manned Aerial Vehicle (EMAV) has 8 long arms with 16 propellers. EMAV is built from aluminum and carbon fiber composite.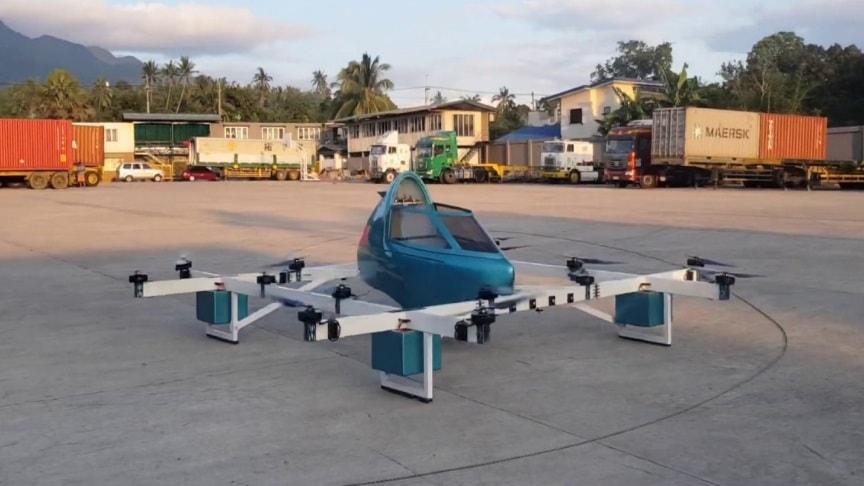 source/image: Flying Kyxz
The flying car currently has a 15 minute flight time with a weight capacity of 220 lbs. Created with several applications in mind like land survey, inspections, and more. EMAV is currently a prototype with no word on a production version.
Its six lithium-ion batteries power 16 rotary motors, which allow the craft to reach a height of 6.1 meters and a top speed of 60 kph.Mendiola is working with Australian company Star8 to further develop the vehicle, with the goal of mass producing it.
Advertisement
This singel seater drone has a 15min flight for now and capable of 100kg Payload or Pilot.All electronic components are redundant including Flight controller and batteries.The frame is made from Aluminum and Carbon fiber composite making this very light yet safe and strong.
Video info:
1 seater Electric Manned Aerial Vehicle
70kg payload 10min test flight
Max flight time 15min with reserve
Tunning and Test flight in Batangas Philippines
Oct 23 2019
Piloted by Kyxz Mendiola
Powered by Star8 green technology