The first time ever developed electric Snow Kart. Capable of almost any type of hard iced, deep powder, Slushy or groomed snow terrain. Lightweight and transportable. Easy to assemble and disassemble. Easy to operate and safe for everyone to ride with precautions.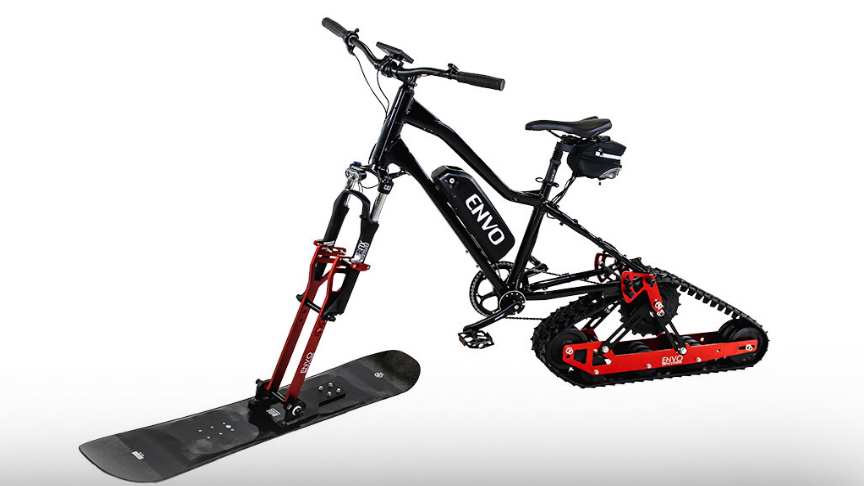 source/image: envodrive
Great stability and steering performance, easy to learn and ride for everyone. Customizable and potentially possible to build any electric Snow machine with modular tracks, skis, and structural parts. An advanced Pedal Assist Sensor (PAS) signalling the controller to run the motor providing a boost to your pedalling depending on the level of assistance you select while riding from 0 to 5.
An environmentally friendly, smooth, silent, and joyful ride. Simple, minimal, and reliable mechanism. Reasonable price.The snowboard attached to the front fork using adapters ensures more stability, smooth sliding on snow and accurate turns.
Advertisement
Lizard style 48V/17.5Ah Li-ion battery pack featured with Panasonic/LG cells with a working temperature range of -20 Celsius, provides up to 2000W of output power and 840Wh of energy enough for 1-hour full throttle or up to 4 hours continuous ride on pedal assist.Powerful Integrated BLDC geared hub motor provides up to 1200W of power and 120Nm of torque in a compact, sealed and maintenance-free construction. The motor acts as e-brake when braking via brake lever cut off switch signal.// envodrive