Hitch Hotel the "World's first expandable, wheel-less trailer" that expands to become an RV that accommodates two full size adults. When in it's closed position, the Hitch-Hotel securely houses everything from 2-3 mountain bikes to camping gear. Learn more about the Hitch-Hotel on our website.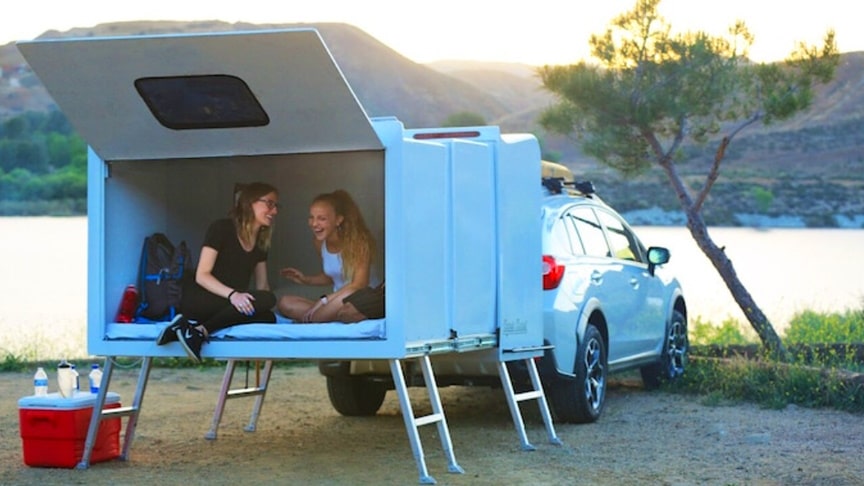 source/image(PrtSc): Hitch Hotel
The Hitch Hotel is a go-anywhere hotel room that expands from an impossibly small footprint to a roomy 7-foot camper that comfortably sleeps two adults off the ground.Compact enough to store almost anywhere, large enough to stow your gear, and light enough to tow on the hitch of any car—this small but mighty trailer is anything but your parent's RV.
The Hitch Hotel hitches to any vehicle with a minimum Class 2 hitch and will go as far as you're willing to take it. Wheel-free and totally suspended off the ground, it is designed to give you a safe and streamlined place to call home wherever you are.
Advertisement
In its closed position, the Hitch Hotel provides over 60 cubic feet of secured, suspended, watertight space for all your gear like bikes, coolers, bags, and sporting goods. In its open position, the Hitch Hotel is a patented, revolutionary sleep-space with over 135 comfortable cubic feet for 2-3 adult adventurers. No more hassles, no more sleeping on the ground. Just you, the open road, and your anywhere hotel room.
The Hitch Hotel is designed with ease-of-use in mind. While traveling to your destination, it is a secure storage box. When you arrive at your destination, only a few steps are required to get sleep-ready. First use the lift system so that the adjustable legs can be folded out and locked in place. With the front legs on the ground, simply unlock and pull the Hitch Hotel into its open position with ease. A second set of legs in the rear folds out to support the trailer, and your Hitch Hotel is now ready! Disconnect it from your vehicle upon your desire and leave it at the campsite while you adventure.