This is the Ferrari F355 Spider, a beautiful and thrilling machine. Today I'm reviewing this Ferrari F355 Spider and I'll show you all the many quirks and features. I'm also going to get behind the wheel of the Ferrari F355 Spider and show you what it's like to drive.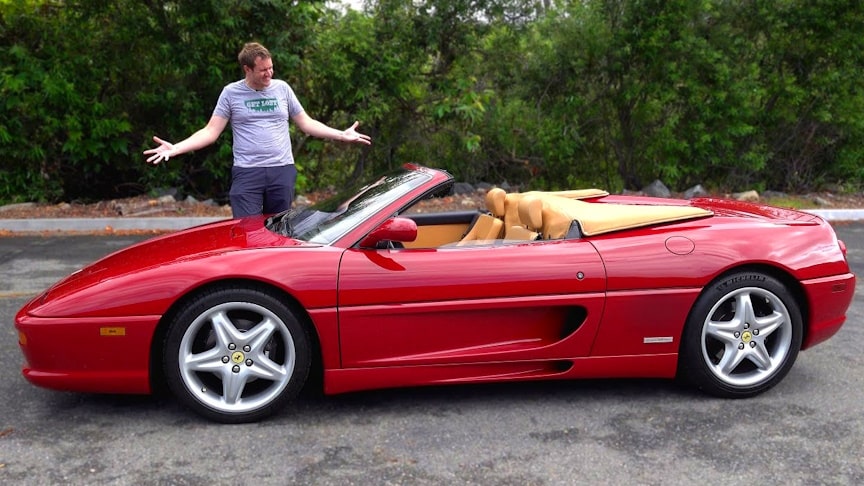 source.image: Doug DeMuro
The frame is a steel monocoque with tubular steel rear sub-frame with front and rear suspensions using independent, unequal-length wishbones, coil springs over gas-filled telescopic shock absorbers with electronic control servos and anti-roll bars. The car allows selection between two damper settings, "Comfort" and "Sport".
The road-going models came with Pirelli tyres, size 225/40ZR 18 at the front and 265/40 ZR 18 at the rear. The car's standard seats are upholstered with hides from Connolly leather, and are fitted asymmetrically in the car; this results in the driver being slightly closer to the car's centerline than the passenger.
Advertisement
Apart from the displacement increase from 3.4 L, the major difference between the V8 engine in the 348 and F355 is the introduction of a 5-valve cylinder head. This new head design allowed for better intake permeability and resulted in an engine that was considerably more powerful, generating a maximum power output 380 PS (279 kW; 375 hp) at 8,250 rpm and 363 N⋅m (268 lb⋅ft) of at 6,000 rpm.