The compact length of the FRANKIA I 680 SG makes the interior feel particularly spacious thanks to the elegant lengthwise seating group. But that's not all. This new model for 2019 is truly amazing when it comes to storage space.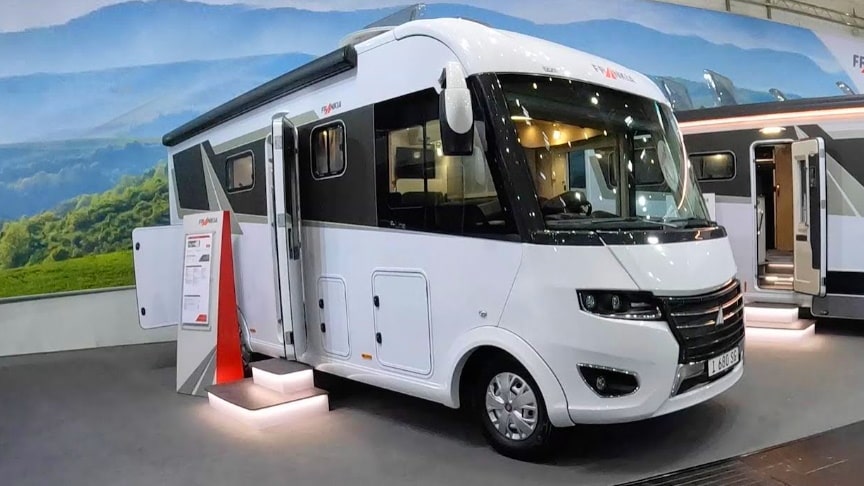 source/image: JARO SPEED
The extra-large wardrobe in the rear is accessible from the interior and bathroom The 1.24 m high rear storage compartment offers you plenty of space for all your gear – and includes a rail system with lashing eyes for securing cargo.
The Frankia F-line is based on ALKO chassis of the Fiat Ducato and is powered by a 32 KW 180 hp 4 cylinder 2,200 ccm engine.Four floor plans and bed layouts for every need: With a choice between a luxurious queen-size bed, comfortable single bed or flexible drop-down bed – you can sleep and live exactly how you want to in the FRANKIA F-Line I 680.
Advertisement
You'll also find the perfect place to refresh yourself with the different bath variations – from a wellness oasis with walk-in wardrobe to a stylishly furnished bathroom. Thanks to a sophisticated space concept, your FRANKIA MaxiFlex kitchen has everything you need to enjoy cooking at its finest. The seating is also well designed: Choose between a cosy seating area in the front or a spacious round seating group in the rear.//frankia