Furrion, a tech company that makes everything from yachts to LED TVs, ovens and Bluetooth speakers, first introduced the world to Elysium at CES 2017. The Furrion ELYSIUM includes a helicopter and landing pad on the roof.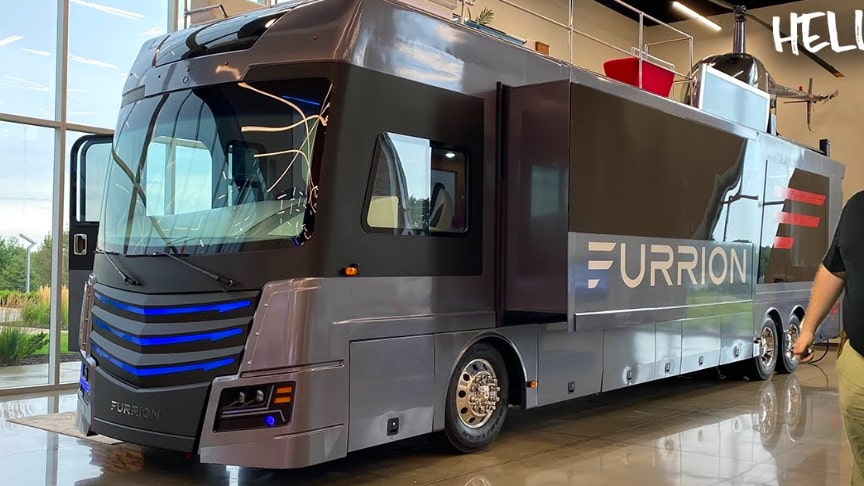 source/image(PrtSc): Matt's RV Reviews
Today we are taking a look at a Motorhome that had to cost OVER A MILLION DOLLARS! This is the Custom Motorohome the Furrion Elysium! This is hands down the COOLEST RV Ive ever seen also the most expensive ive seen. It has a Jacuzzi on the Roof for heavens sake! I just wish they actually sold motorhomes like this because nothing would be cooler then walking up to the roof during a Nascar race. Wathc the video from Matt's RV Reviews where he takes a full yout of Matt's RV Reviews RV:
The roof has another great feature, a hot tub. This VIP RV also comes standard with built-in WiFi, smart appliances, several 75 inch TVs, and built-in 360-degree exterior security cameras. The ELYSIUM somewhere in between $2.5 and $3.5 million, is a pricey yet impressive luxury RV.
Advertisement
Elysium is 45′ long, 8′ wide, and 13′ 6″ high, but probably nicer than your apartment. It also functions as a complete "home" Furrion says. The purpose of making the Elysium was to design an RV that connects its passengers with intelligent technologies that promote luxurious comfort.