Not much action going on here, guys, but still one of those special occasions that rarely happen. Yes, because seeing this Sci-Fi UFO moving is always something amazing and that would never have happened if the American collector James Glickenhaus hadn't bought it in 2014. The Modulo was unveiled in 1970 as a pure concept car/mockup without any mechanical component. It was designed by the Italian designer Paolo Martin of Pininfarina starting from a Ferrari 512S chassis that was given by Ferrari itself after the engine and transmission were removed for this purpose.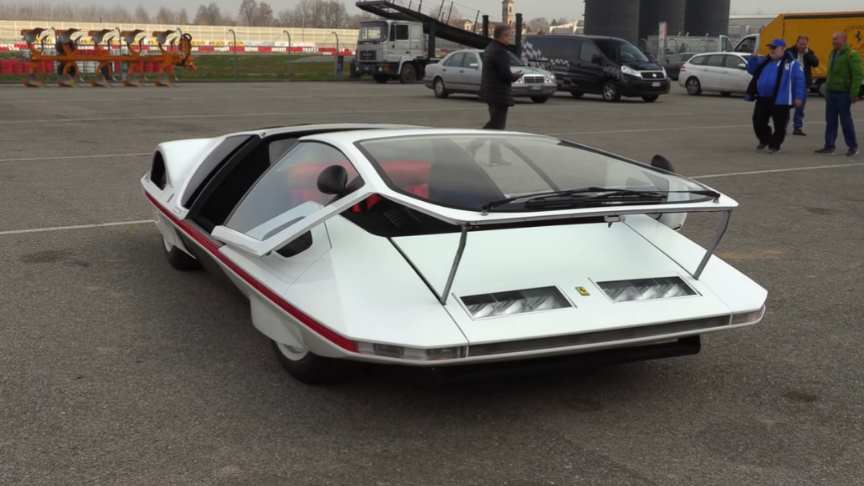 source/image(PrtSc): 19Bozzy92
Inspired by the space exploration and futuristic themes very popular at the time, Martin designed a vehicle with an unusual shape, equipped with graphically specular solutions considered even too futuristic for the time, for example the absence of any typical door, replaced by that one-piece windshield and roof which was manually moved forward to allow entry.
This solution allowed to have a very low car (only 93 cm from the ground) with a unique design typical of the Wedge Era.Even interiors were cutting edge: just look at that particular sphere in which all the controls are arranged with buttons facing the driver. At its unveil the car was painted in a metallic black but later re-painted in white. The Modulo managed to win 22 awards for its design.
Advertisement
With the help of the Italian company Manifattura Automobili Torino the 512 S Modulo was able to grind the first kilometers. For the engine, they managed to find an original Ferrari Type 261C 5-litre 60° V12 originally mounted on the 512 S Group 5 race car and which was able to produce around 550hp at 8,000 rpm.via/read more: 19Bozzy92