Goodyear made spherical tires for Citroen's Urban Collectif Concept, the Citroën Skate.The Urban Collëctif has unveiled an innovative concept and shared vision to transform the future of urban mobility.The aim is to optimise mobility for city-dwellers around the world and help reduce congestion in cities for everyone to reclaim urban spaces and put the fun back into city travel.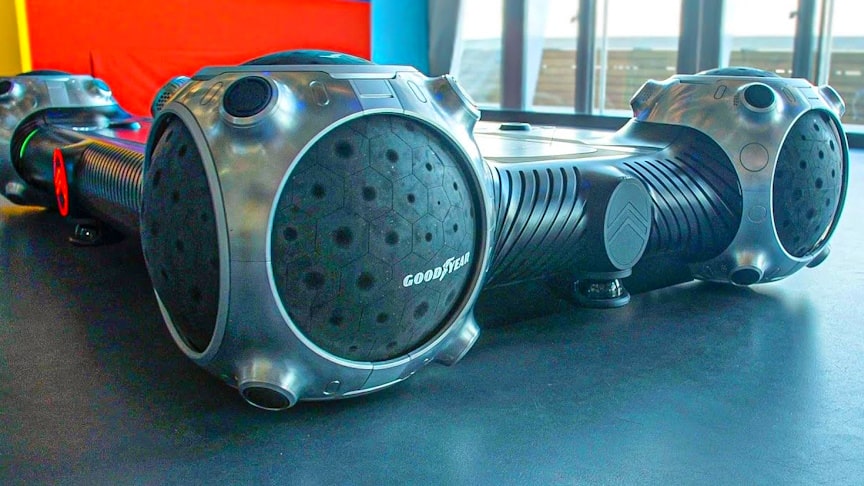 source.image: YOUCAR
Goodyear contributed to the project with the Eagle 360 wheels, which were made especially for this concept. These spherical tires feature the Goodyear wingfoot and logo, and incorporate small electric motors, giving the robot concept 360-degree freedom of movement.Video by YOUCAR:
The Urban Collëctif, drawing on its 200 years of combined experience in innovation, is a new partnership between three French companies, Citroën, Accor and JCDecaux. It relies on an innovative concept dubbed Citroën Autonomous Mobility Vision which combines a high-tech and universal mobility platform, The Citroën Skate, with three new service Pods – Sofitel En Voyage, Pullman Power Fitness and JCDecaux City Provider – each offering a unique experience to explore cities in a new way.
Advertisement
Using autonomous, electric, and agile Citroën technology, this disruptive, open-source urban mobility concept aims to decongest cities while also meeting citizens growing needs in terms of mobility, services, safety and well-being, especially in cities.The Citroën Skate features minimal footprint with limited dimensions of 2.60m long, 1.60m wide and 51cm high, meaning it doesn't encroach on public space. Its compact dimensions and design, stripped of the automotive layer, make it a clever and universal mobility solution.