The Yamaha Motoroid concept is an intelligent, AI enabled, self-riding, self-balancing electric motorcycle that looks like more like a sci-fi movie prop than a fully functioning motorcycle concept."MOTOROiD, stand up!" As if waking from a slumber to respond to the call, the machine's chassis gyrates and slowly brings itself up off its sidestand to stand upright on its own.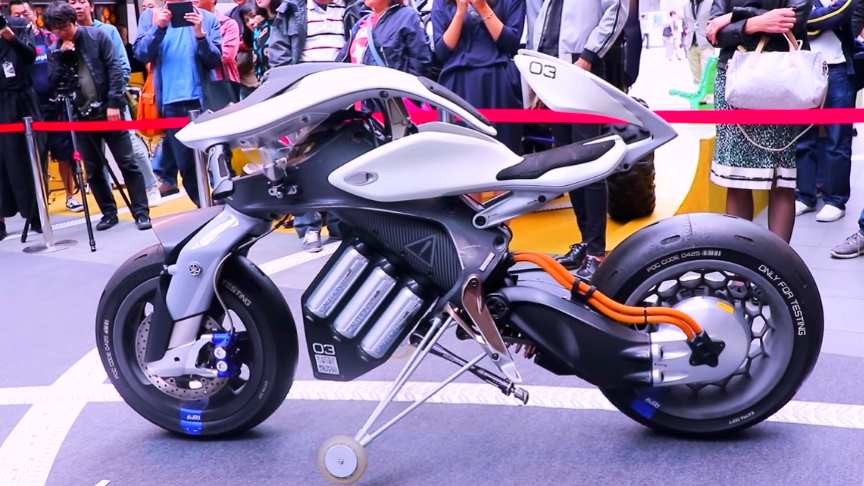 source/image(PrtSc): Car and Moto in Japan
With a beckoning gesture or call from the rider, MOTOROiD moves forward, and sometimes rotates its chassis to snake left and right as if engaged in a friendly frolic with the rider. Despite being a human with a machine, the scene looks more like a dog—albeit a very large one—and its owner going for a leisurely stroll, with a sense of intimacy and mutual trust.
Powered by Li-ion batteries and to reduce losses, the hub motor has been placed on the rear wheel itself. The smart vehicle senses its own centre of gravity automatically and hence, remains upright.
Advertisement
The primary technologies comprising MOTOROiD are an image recognition AI system for recognizing the rider's face and gestures./TechnologicVehicles
Yamaha's exclusive AMCES (Active Mass Center Control System) self-balancing technology, and a haptic human-machine interface (HMI) that wraps around the hips and is aimed at fostering non-verbal communication between rider and machine.//Car and Moto in Japan