The width of this RC Bell 209 Cobra AH-1F helicopter is around 85cm with a rotor of 3.25m and tail rotor 64cm, the weight of the helicopter is 19.8kg. The helicopter is powered by Electro X-Nova XTS 4535 electric engine.This is a premium scale helicopter that offers tremendous details. The main body of the helicopter is die cast metal.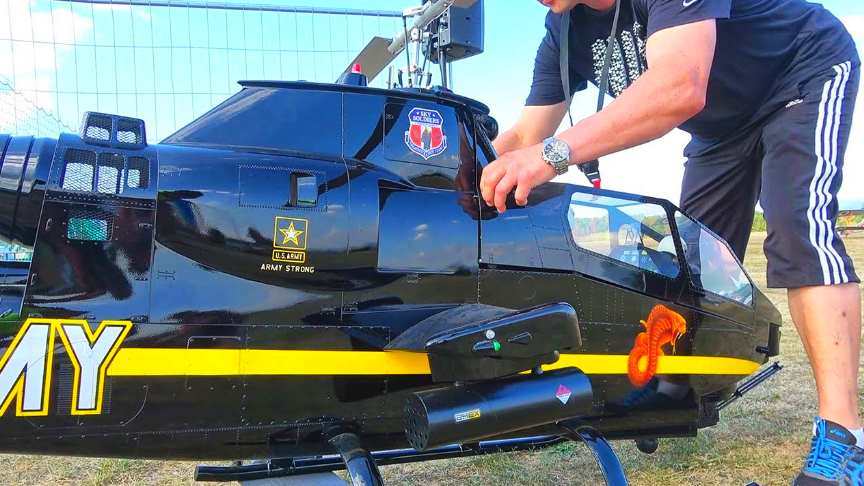 source/image(PrtSc): DIGITAL RC
The compact mechanic is built into the engine compartment, just like on a real helicopter. Therefore it allows space for front to back scale cockpit seats.Some of the smaller attached accessory pieces like the air speed sensor and missile mounts are made of plastic.
This unique scale look and details stun and make it hard to see the difference to a real helicopter.Functions such as attitude stabilization through gyro electronics, two selectable speeds and a switchable LED searchlight promise a lot of fun.
Advertisement
The Bell AH-1 Cobra is a two-blade rotor, single-engine attack helicopter manufactured by Bell Helicopter. It was developed using the engine, transmission and rotor system of the Bell UH-1 Iroquois.
Model: Bell 209 Cobra AH-1F
Pilot: Christian Neumann
Rotor size: 3,25 m
Weight: 19,8 kg
Motor: Electro X-Nova XTS 4535
Event: Mega Flugshow Göttingen 2019, Germany