The Lockheed SR-71 "Blackbird" is a long-range, high-altitude, Mach 3+ strategic reconnaissance aircraft developed and manufactured by the American aerospace company Lockheed Corporation. From 80,000 feet, it could survey 100,000 square miles of Earth's surface per hour.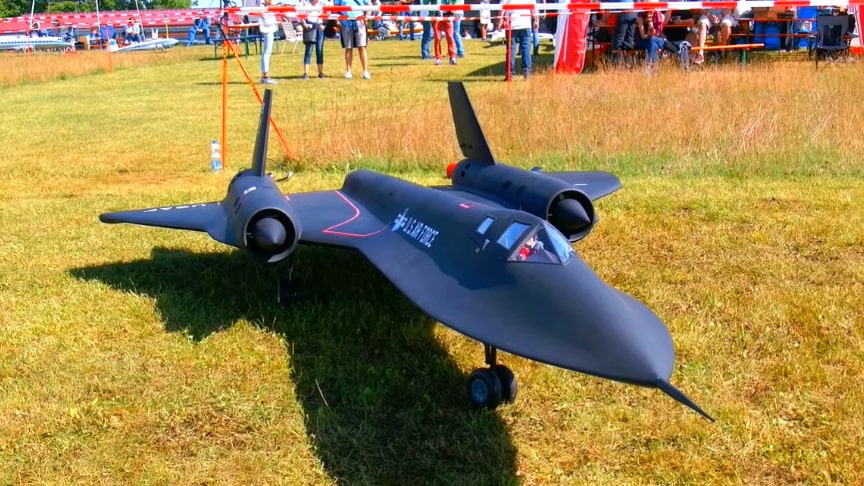 source/image(PrtSc): RC MEDIA WORLD
The Blackbird's design, speed, stealth and mystery continue to inspire fans all over the world.RC enthusiast Walter Blaß took his passion for the Blackbird to a new level when he built his own RC model of the legendary jet.The Blackbird is powered by twin 2x Frank Turbine producing more than 32kg of thrust.
The 1/7.5 scale model has a wing span of 2.40m and is an impressive 4.10m long and weighs in at 36Kg. Construction is basic balsa and plywood construction with fiberglass cloth and resin finish.The tank capacity is 10 litres and the model has a flight time of max. 10 mins.
Advertisement
Walter Blaß completely scratch built the scale retractable landing gear complete with disc brakes. The amazing spy plane also uses a scale drogue chute to shorten the landing run out after touchdown.Lance SR-71 Blackbird RC model even had the interior hatch signed by all of the full-scale Sled Drivers./RC MEDIA WORLD