The Bell AH-1 SuperCobra is a twin-engine attack helicopter based on the United States Army's single-engine AH-1 Cobra. In this video from RCHeliJet we show you this giant RC AH-1 Cobra in U.S Navy Sky Soldiers with a lenght of 3.5m and a height of 1.00m poweed by a Jakadofsky Pro 5000 98000 turbine engine.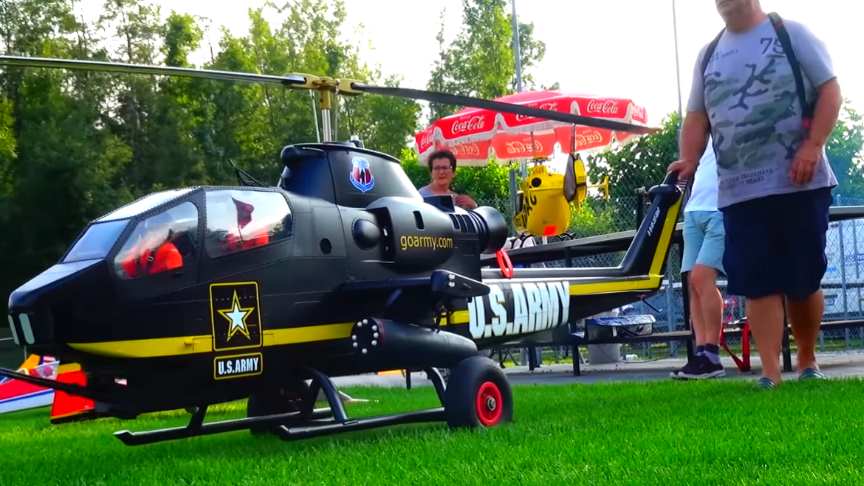 source/image: RCHeliJet
Liechtensteim/Switzerland RC Scale Helicopter meeting.Very nice Turbine AH-1 Super Cobra Scale Model RC Helicopter flown in a beautiful scenery, enjoy it.video by : RCHeliJet
The width of this RC helicopter is 85cm with a rotor of 3.35m and tail rotor 64cm.This is a premium scale helicopter that offers tremendous details. The main body of the helicopter is die cast metal.
Advertisement
Some of the smaller attached accessory pieces like the air speed sensor and missile mounts are made of plastic.This unique scale look and details stun and make it hard to see the difference to a real helicopter.via/read more: RCHeliJet
Model: AH-1 Cobra in U.S Navy Sky Soldiers
Scale: 1:4
Length: 3,52 m
Height: 1,00 m
Width: 85 cm
Rotor: 3,35m
Tail rotor: 64cm
Weight: 24,2kg