The Dassault Falcon 2000s is a French business jet and a member of Dassault Aviation's Falcon business jet line, and is a twin-engine, slightly smaller development of the Falcon 900 trijet, with transcontinental range.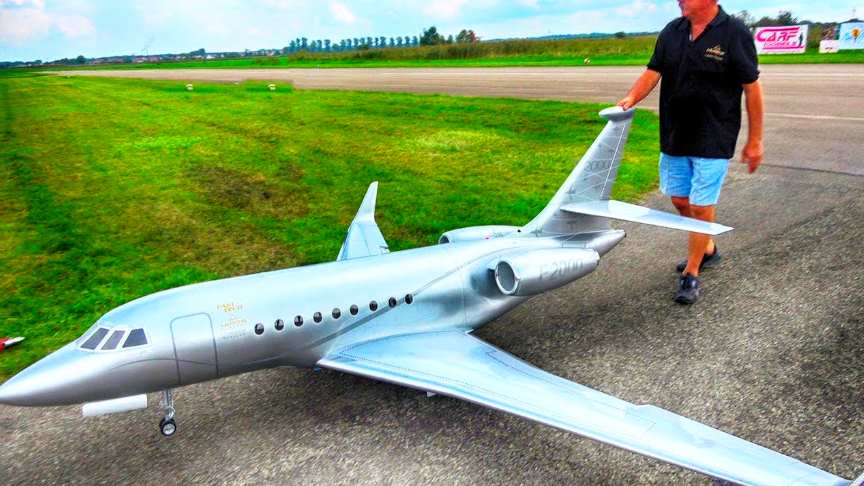 source/image: DIGITAL RC
Falcon 2000S: Variant which began testing in 2011 with short field characteristics.Landing distance has been reduced to 705 meters, opening up 50% more airports than other aircraft in this class.
This giant Scale: 1:7 Falcon 2000S Dassault has a wing span of 2.8m a length of 2.90m and a weight of a 24kg. The airplane is powered by two 100n turbine jet engines.The pilot of this airplane in this video is Stefan.
Advertisement
The Fuselage of this airplane is molded in glassfiber epoxy with carbon reinforcement in 2 piecesThe 2 engines pod molded in epoxy with dummy engine. Aluminium spare fitted to remove them easily. The landing gear has been designed for stronger field operation, with chock absorber struts, like real Falcon.
Model: Falcon 2000S Dassault (Paritech)
Pilot: Stefan
Wing span: 2,80 m
Length: 2,90 m
Weight: 24 kg
Scale: 1:7
Turbine: 2x 100N
Location: Jet Power 2018, Germany