This giant RC Sr-71 model airplane is based on the original on a scale of 1: 7.5.It's length is 4.8 meters and its take-off weight is 36 kg. The tank capacity is 10 litres and the model has a flight time of max. 10 mins.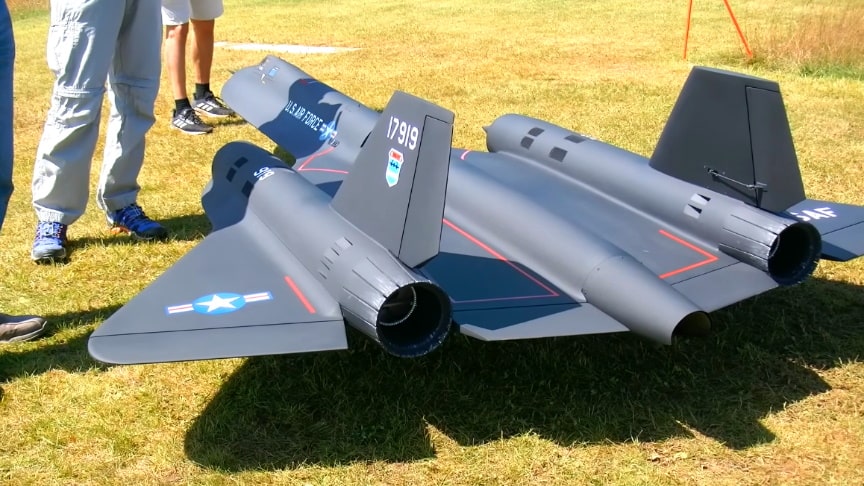 source/image(PrtSc): RC MEDIA WORLD
The pilot and owner of this scale model is Matthias Blaß and the Blackbird is powered by twin 2x Frank Turbine producing more than 32kg of thrust.
It has retractable landing gear with wheel brakes, and air brake like the original.The entire model airplane is a one-of-a-kind and was completed in about 2,400 working hours (2 years). The material value is about 20,000 Euros. Builder, Walter Blaß, of the SR-71 and it is flown by is son, Matthias Blaß.
Advertisement
The Lockheed SR-71 Blackbird Mach 3-strategic reconnaissance aircraft remained the world's fastest and highest-flying operational aircraft throughout its nearly 24-year career. The Blackbird's design, speed, stealth and mystery continue to inspire fans all over the world./RC MEDIA WORLD
Model: Lockheed SR-71 Blackbird
Engine: 2x Frank Turbine
Thrust: 32Kg
Tank: 10 Liter Cerosene
Wingspan: 2.40m
Length: 4.10m
Take-off weight: 36Kg
Scale: 1/7.5
Pilot: Matthias Blaß
Builder: Walter Blaß