The pilot and the builder of this giant RC Dornier DO-X airplane is Michael Bräuer. The airplane scale is 1:10 with a wingspan of a 4.8m powered by 12 4 stroke RC O.S gasoline Engines with a take-off weight: 60kg.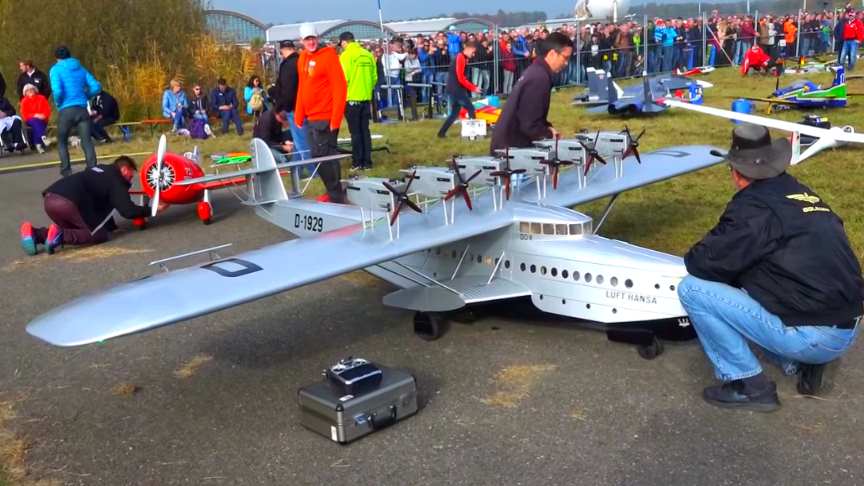 source/image: RC RC RC!!!
The scratch built model uses conventional wood construction and includes retractable landing gear and an amazing amount of scale detail.This RC is massive, eclipsing the sun as it flies overhead revs its 12 engines.The real Dornier Do X may not have been able to get more than 40 feet off the ground but this RC can really soar. video by RC RC RC!!!
The sound of those 12 powerplants make is incredible, and the video shows how well the model handles in very heavy wind, even on landing.The Dornier DO-X flying boat would reign supreme as biggest until 1942 when the Boeing B-29 Superfortress was introduced.
Advertisement
Now the iconic flying boat has been miniaturized as an RC model, but it's still pretty damn big.he flying boat could accommodate 150 passengers, featured three separate decks which included a dining area, smoking room, full bar and sleeping berths.
Model: Dornier Do X Lufthansa
Pilot: Michael Bräuer
Scale: 1:10
Wingspan: 4,8m
Take-Off Weight: 60kg
Engine: 12 OS Motors with each 10ccm
Complete self construction, wood construction