The world's largest RC airplane is a spectacular creation. In the sky, it is nearly indistinguishable to the real airliner.The monster Jumbo Jet has a wingspan of 4,95m and it is 5,43m long, the scale of the airplane is 1:13.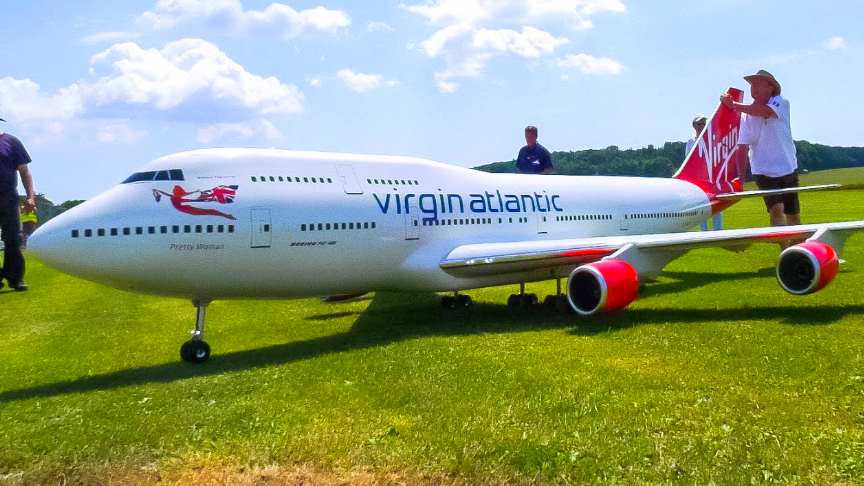 source/image(PrtSc): RC RC RC!!!
The all composite airliner weighs in at just under 68 kg and is powered by four IQ Hammer 140 turbine engines, outputting a thrust of 14 kg each and is controlled by Weatronic radio gear. Accumulatively, the project took more than 2000 hours to accomplish.
This video was shot at the Airliner Meet in Oppingen, Germany, the builder of the airplane is Adi Pitz, the pilot in this video is Rainer Kamitz.It will be quite difficult for anyone who tries to overcome this Boeing 747!
Advertisement
Have you ever dreamed of becoming an airplane pilot but have not succeeded? With this toy you can fulfill your long awaited dream! Boeing is the largest in the world and playing with him on the remote control makes you feel like a real pilot.
Model: Boeing 747-400 Virgin Atlantic
Builder/Owner: Adi Pitz
Pilot: Rainer Kamitz
Scale: 1:13
Wingspann: 4,95m
Lenght: 5,43m
Weight: 68 kg
Engine: 4x turbine IQ Hammer 140