The Pilatus SB-2 Pelican was a civil utility aircraft developed by the newly formed Pilatus Aircraft company and the ETH Zurich during World War II.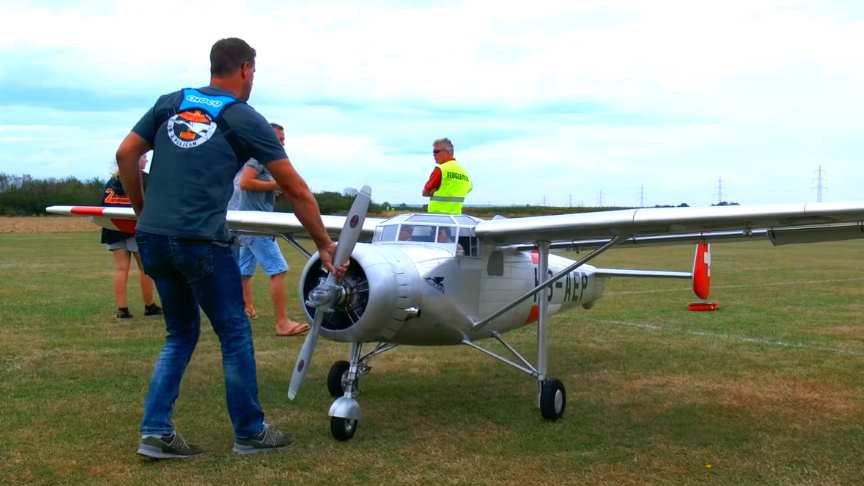 source/image(PrtSc): RC MEDIA WORLD
Markus Frey brought a PILATUS SB-2 PELICAN to life! With this model airplane he wrote Swiss aviation history. Of this type of aircraft, there is only this model in the world that soars into the air.
This Scale: 1/2.8 model Pilatus SB-2 Pelican has a wingspan of 5.54m, a lenght of app.3.54m,a height 1m it weights aoo.72kg and is powered by a Valach R5-420 gasoline engine. The builder and the pilot of this airplane is Markus Frey.
Advertisement
The Pilatus SB-2 Pelican made its maiden flight on 30 May 1944.After extensive trials, the only model built went to Alpar AG in Bern.The Pelikan was particularly well suited for passenger operations, but could also be used for aerial photography, survey flights, freight transport and agricultural work./wikipedia
Model: Pilatus SB-2 Pelican
Scale: 1/2.8
Wingspan: 5.54m
Length: app 3.54m
Hight: 1.04m
Take-off weight: app. 72Kg
Engine: Valach R5-420
Pilot: Markus Frey
Event: Euroflugtag Rheidt Germany August 2019