The remarkable F-16 is known as the most capable single engine supersonic multirole fighter aircraft in the world.The Fighting Falcon's key features include a frameless bubble canopy for better visibility, side-mounted control stick to ease control while maneuvering, an ejection seat reclined 30 degrees from vertical to reduce the effect of g-forces on the pilot.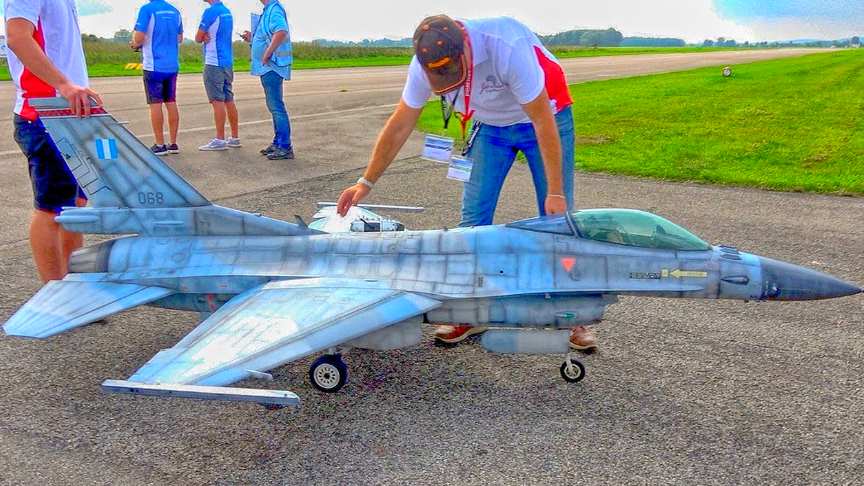 source/image(PrtSc): DIGITAL RC
This jet It is one of the most stable RC aircraft, engineered and finished for sport, competition and show events. The airframe is constructed with full composite "Sandwich Technology" bringing the lightest aircraft ever introduced at this price point.
This giant Scale 1/5 model of F-16 has a wingspan of 2.06m a lenght of 3.06m, the airplane is powered by Turbine JetCat P220RXi turbine engine, the take-off weight of the airplane is 22Kg. The pilot flying this airplane is Carli Tiziano .
Advertisement
The main structural parts have more scale detail than most other composite planes in this size class. The landing gear is very close to the original and can conquer any grass airfield.
Model: Skymaster F-16
Pilot: Carli Tiziano
Engine: Turbine JetCat P220RXi!!!
Wingspan: 2,06m
Lenght: 3,06m
Scale: 1/5
Take-off weight: 22Kg