Giant Scale RC FIAT G.91 Italian jet fighter (Flown by Simon Potter)Simon Potter flies his G.91 at Classic Jets #75 event in Abingdon. A rarely modelled scale radio controlled jet in an amazing scheme applied by the master, Philip Noel of Pinnacle Aviation.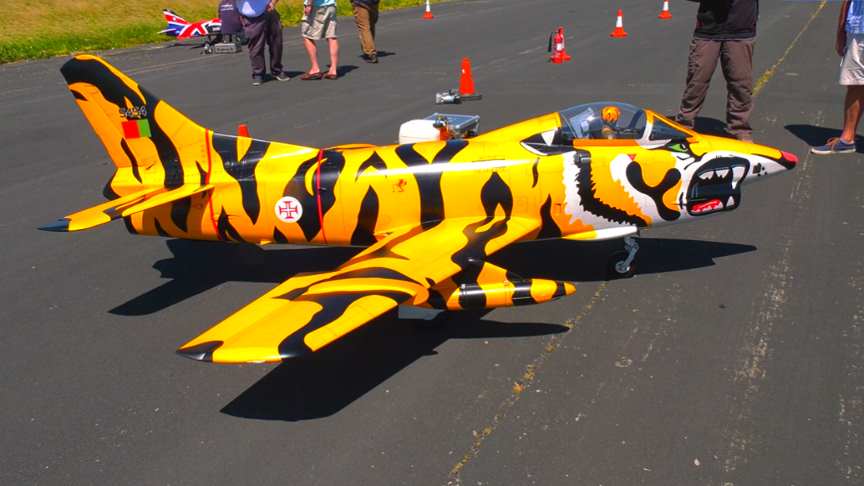 source/image(PrtSc): Essential RC
The Fiat G.91 is an Italian jet fighter aircraft designed and built by Fiat Aviazione, which later merged into Aeritalia. The G.91 has its origins in the NATO-organised NBMR-1 competition in 1953, which sought a light fighter-bomber "Light Weight Strike Fighter" to be adopted as standard equipment across the air forces of the various NATO nations. After reviewing multiple submissions, the G.91 was picked as the winning design of the NBMR-1 competition.///Essential RC
The G.91 entered into operational service with the Italian Air Force in 1961, and with the West German Luftwaffe in the following year. Various other nations adopted it, such as the Portuguese Air Force, who made extensive use of the type during the Portuguese Colonial War in Africa. The G.91 enjoyed a long service life that extended over 35 years.
Advertisement
The G.91 remained in production for 19 years, during which a total of 756 aircraft were completed, including the prototypes and pre-production models. The assembly lines were finally closed in 1977. The G.91 was also used as a basis for a twin-engined development: the Fiat/Aeritalia G.91Y./wikipedia