The Antonov An-225 Mriya is a strategic airlift cargo aircraft It is powered by six turbofan engines and is the heaviest aircraft ever built, with a maximum takeoff weight of 640 tonnes. The Airlifter holds the absolute world records for an airlifted single item payload of 189,980kg.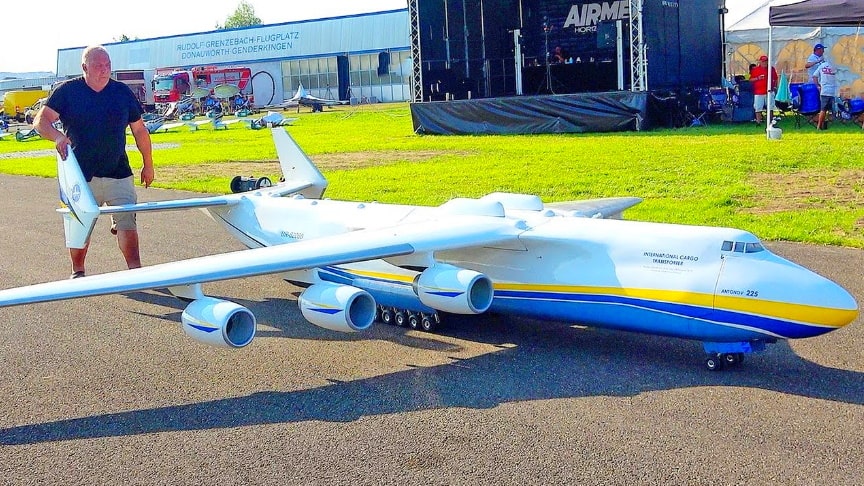 source/image(PrtSc): DIGITAL RC
The 5,30 m, 93,5 kg Antonov isn't the biggest known flight-capable An-225 replica.This giant RC Antonov is built by Michael Speier in a scale of 1:16, it has a wingspan of 5.8m, a length of app 5.3m. The polot of this giant airplane on this video is Michael Speier.
The airplane is powered by two Behotec JB-180 gasoline engines and four 90er EDF 6s electric fan engines, producing 47+ kg of thrust. The airplane has a take off weight app: 93.5kg.
Advertisement
The Antonov An-225 Mrija is a six-engined cargo aircraft developed by OK Antonov in the Soviet Union.Until take-off on April 13, 2019, it was the largest aircraft in service in the world in terms of wingspan./DIGITAL RC
Model: Antonov AN-225
Pilot: Michael Speier
Scale: 1/16
Wingspan: 5,80 m
Length: app 5,30 m
Take-off weight: 93,5 kg
Engine: 2x Behotec JB-180 / 4x 90er EDF 6s (8 kg thrust)
Total thrust: 47 kg
Event: Horizon Airmeet 2021, Donauwörth, Germany