The Mil Mi-8 is a medium twin-turbine helicopter, originally designed by the Soviet Union, and now produced by Russia. In addition to its most common role as a transport helicopter it is also used for other operations.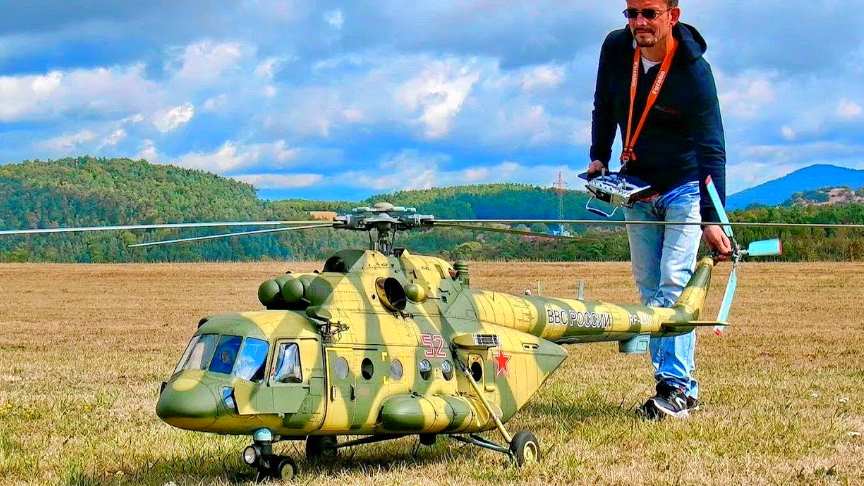 source/image(PrtSc): RC MEDIA WORLD
Here is a Stunning GIGANTIC Mil Mi-8 AMT RC Turbine Scale Model. This is one of the biggest RCs we've seen to date. These guys built something special. The helicopter is meticulously hand painted and weathered with authentic markings.
This giant RC Scale: 1/4 Mil Mi 8 is powered by a turibne engine, it has a rotor diamater of app.2.80 m with a take-off weight: app. 24Kg. The builter and the pilot of this amazing helicopter is Matthias Strupf.
Advertisement
To the Mil Mi 8 helicopter is given the finishing touches by this lovingly handcrafted kit. The finished model can then hardly be distinguished from the original.Highly detailed carbon fiber body parts with rivets and panel lines.
Model: Mil Mi-8 AMT / Mil Mi 17 (Heliclassics)
Scale: app. 1/4
Rotor diameter: app. 2.80m
Take-off weight: app. 24Kg
Engine: Turbine
Pilot: Matthias Strupf