Very well equipped new car with smart solutions – GiottiLine GiottiVan 60T by Rapido!Very smart bathroom solution that ensures you get a large bathroom the width of the car and your own separate shower cubicle, which is unusual to have in a city camper! The car has Truma Combi D, (diesel heating, similar to Webasto), which provides heat and hot water, which is a practical and popular solution. This is very nice to have as it uses diesel from the fuel tank.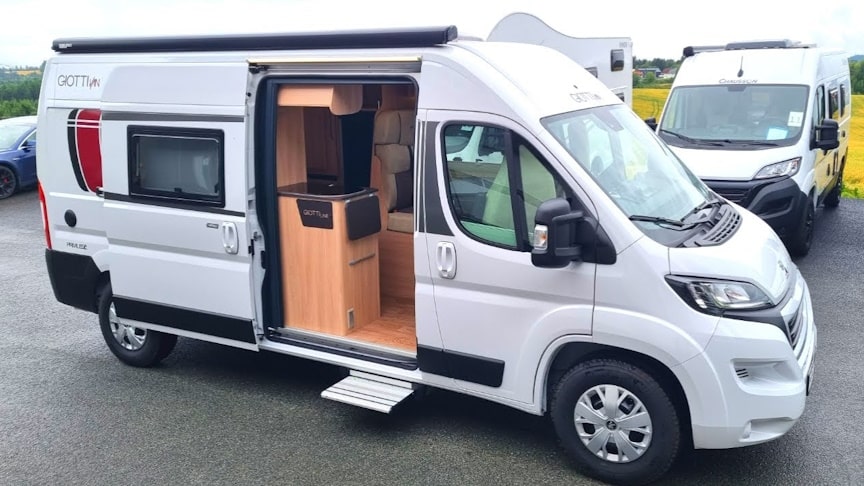 source.image: Bobilagenten AS
The motorhome is 5.99m long, which makes it easy to tow around and easy to park. Can be parked in a regular car park. Here you get the best of both worlds, this can be used as an everyday car and for longer and shorter trips. Works as a passenger car on ferries and toll rings! Can be driven on a normal car driving licence, class B.
Outside, you have an awning, electric step, reversing camera, living room door with door stop so that you can keep it halfway open if desired, recessed windows, sun shutters, mosquito door, outdoor lighting and double folding doors at the back with window/blinds/mosquito netting! Notice the recessed windows and front in the car's colour. The car has a nice partial leather interior and LED lighting all around provides plenty of light for a pleasant atmosphere.
Advertisement
Reversible pilot seats with armrests and adjustments, air-conditioning system, airbags on both sides in front, on-board computer and robust Euro 6 Adblue – 2.2L Turbodiesel engine of 140 hp which, in combination with cruise control, makes the motorhome ready for travel.The world's largest bathroom in a van? The bathroom has a very smart solution that tilts out so that you get plenty of space and your own shower cubicle! Here you can get a bath the entire width of the car!