The Rapido brand has accustomed us to innovation and being a bold pioneer in many ways. The result of the work is a really refined, new, compact integrated for four people based on the Fiat Ducato 2,2 L – 140 hp engine, the C55i model is not a motorhome like any other. The motorhome is 672 cm long and 217 cm wide, is impressive – even with the base DMC of 3,500 kg.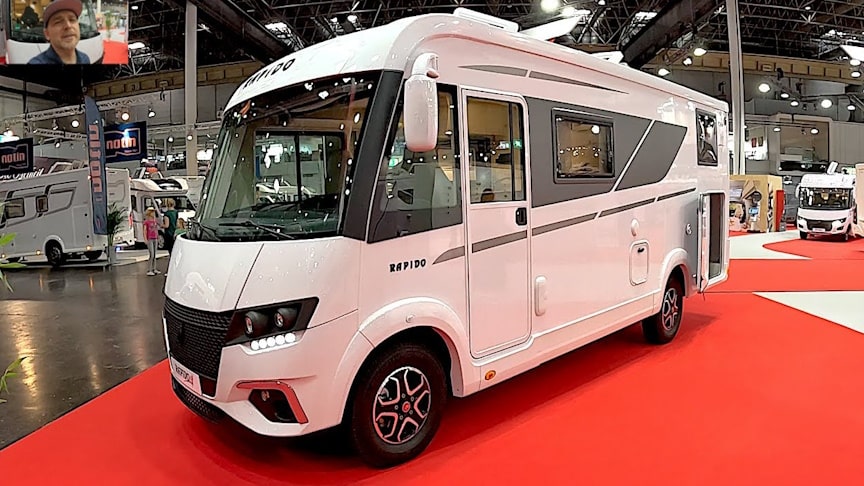 source.image: JARO SPEED
This C55i is a good looker, with premium features such as framed habitation windows, a modern matt black grille and twin-lens, bus-style mirrors. The Novatech construction features 100% polyester roof, walls and underfloor with Styrofoam insulation, as well as aluminium skirts.
Kitchen storage includes three large drawers, one with a cutlery tray and another with a hidden drawer. There are also two deep overhead lockers.That garage is a bonus. With a height of 1.20m, it is big enough for at least one bike, while the double doors make loading simpler, too.
Advertisement
The lounge incorporates the swivel cab seats (Fiat chairs with integral seatbelts), in addition to the nearside L-settee. The folding tabletop ensures that this doesn't dominate but you'll note that there are three different floor heights up front. At the rear, two steps lead up to the twin beds over the garage. The offside bed narrows a little at the foot, while mattress lengths are 1.85m and 1.99m (manufacturer's figures).