Touring the smallest silos I have visited so far! at 400sqft of space plus rounded walls, this makes for a very interested layout and design here at Clark Farm Silos!In Kalispell, stay in a renovated grain silo with panoramic views at Clark Farm Silos. Ideal for couples, each silo has a well-thought-out design with stylish and retro Montana vibes.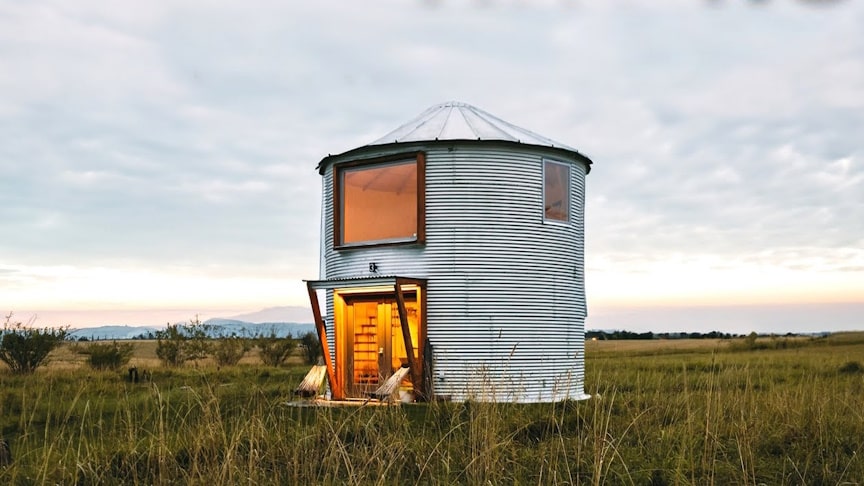 source.image: Levi Kelly
The farmstead hotel boasts five fully renovated silos neatly lined up on the Clarks' three-generation family farm. The Clarks found the grain silos, which they refer to as big ol soup cans on a farm outside Coeur d'Alene in Idaho.The unique metal structures are light, bright, and deceivingly spacious.Watch the video from Levi Kelly for more info:
They also have a fully-functional kitchenette, spacious loft bedroom, a private bathroom, and spectacular mountain views to seal the deal.The main bedroom is spacious with a comfortable king sized bed, down pillows and luxurious cotton linens. Each living area has a convertible couch with linens provided.
Advertisement
Our fully functional kitchenette is equipped with a refrigerator, cooktop, microwave, toaster and cooking utensils so you can prepare a light snack or culinary masterpiece. When night approaches, you'll retreat to your private campfire to sit under the stars and share a little whiskey with your date.