The model engine on this video is H08 4.2CC Hoglet OHV V-Twin Four-Stroke Gasoline Engine Mini Retro Motorcycle Engine Model with Pedal Start.Based on the vintage Hoglet twin-cylinder motorcycle engine from the last century, this mini gasoline engine model captures the spirit of different eras in a fascinating way.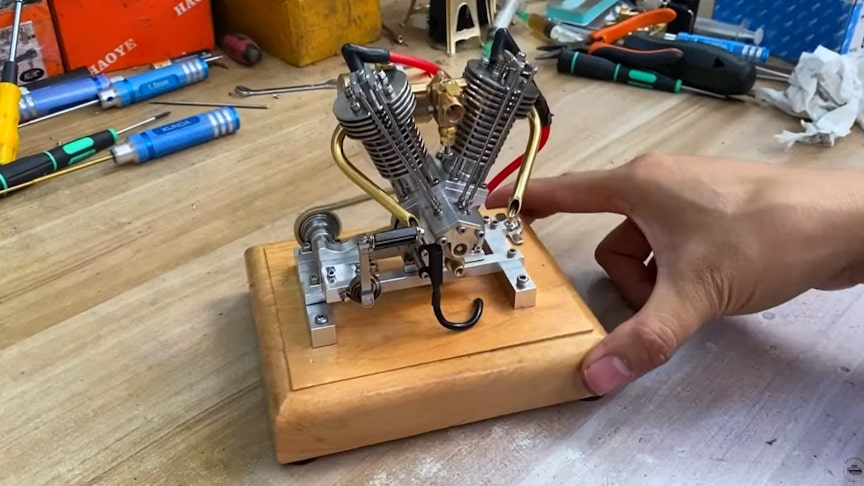 source.image: ENGINEDIY
Made in CNC machining with aluminum alloy, brass, and stainless steel, the highly intricate model exudes a retro charm with classic body lines. Featuring a cold cooling structure, a brand new carburetor, and a toggle throttle lever.
Consist of meticulously designed and manufactured components including the integrated ignition with a wooden base for convenient display and operation, ensuring smooth operation.Come with a foot pedal starter, chain, and ignition device, making this engine, ready to run, beginner-friendly for model enthusiasts.
Advertisement
It especially wows everyone with stunning performance.Perfect as a highly sought-after collectible, suitable for showcasing and playing with whether for personal use or as a sophisticated and unique model gift for friends and family on special occasions.Material: Brass + Stainless Steel.Item No: H08.Overall Dimensions: 150 x 120 x 140mm.Wooden Base Dimensions: 150 x 120 x 30mm.Scale: 1/5.Form: Ready to Run.Model: V-Twin Four-Stroke Gasoline Engine.Displacement: 4.2CC.