Conscious of balancing key attributes of landscape, orientation and experience, architect Stephen Jolson of Jolson optimises the itinerant lakeside location of his houseboat, Halcyon. The super yacht thoughtfully interprets its unique context to create an architectural home that offers not just a refuge but an experience – one that allows a deep connection to the elements.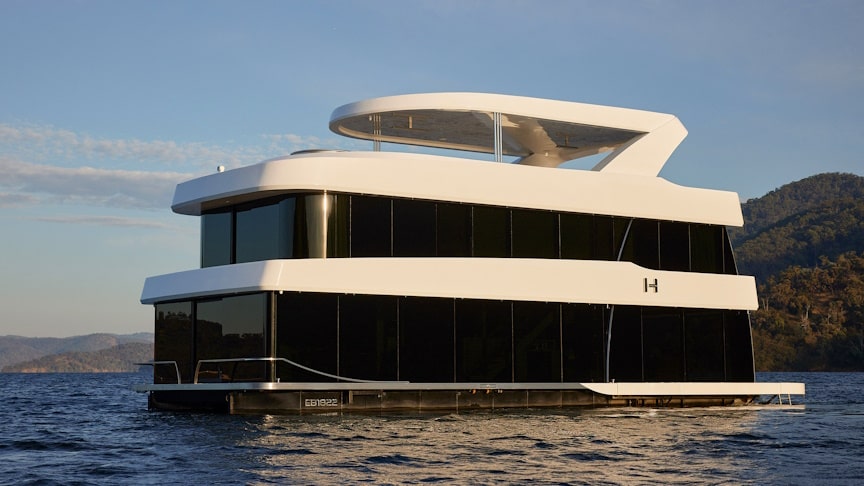 source.image: The Local Project
Halcyon is a graceful expression of Jolson's combined interior and architectural expertise, its design seamlessly integrating with elements of the landscape to maximise the unique context. Living on the water means changing orientations and outlooks are to be celebrated.
As such, an open plan ground floor with limited joinery, furniture and walls allows many outlooks, with a full-height wall serving as a division that enables the lounge and outdoor dining area to connect seamlessly. The first floor also houses two master bedrooms and two other guest bedrooms that share an ensuite. In the middle of the super yacht is a staircase that extends to the open rooftop, which houses a woodfired hot tub.
Advertisement
The super yacht takes advantage of its mooring by welcoming the textures of the landscape inside the architecture of the boat, recounting a strong connection between the water and the landscape with the interior design. Floor-to-ceiling windows, an open floor plan with minimal partitions and large, functional outdoor spaces were all incorporated to maximise the indoor-outdoor connection. In addition, the way natural light passes through the home in such abundance was key in influencing the layout of the bedrooms and the interior palette.via: The Local Project