This DL is a fine running bike and is equipped with a Corbin speedo and twin bullet headlights.Dubbed the three-cylinder Harley by Indian riders and other detractors, Harley-Davidson's new motorcycle was the company's latest entry into middleweight bike class. Earlier, the company produced the Model W, the Sport Model, a fore and aft flat twin. Much like the English Douglas, it didn't sell well in the United States market. Nearly 9900 Sport Models were made between 1919 and 1923.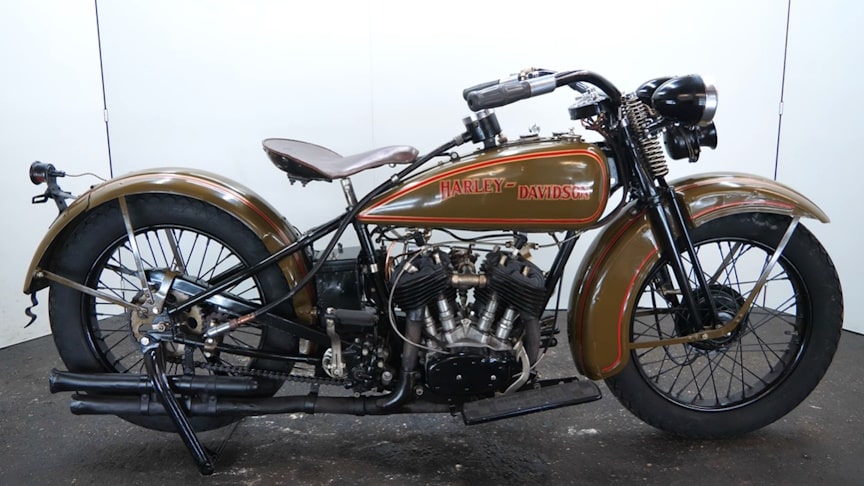 source.image: classic-motorcycle.com
Indian also went down this same road earlier with their Model O and encountered the same resistance in the market. The new class of middleweight motorcycles possessed 750cc engines, a trend started by Excelsior's new Super-X in 1925 and shortly thereafter with the enlarged Indian Scout in 1927. Ever conservative, Harley-Davidson stepped up to the plate with a newly designed 750cc sidevalve motor. In a cost saving idea, the new motorcycle would utilize the existing chassis from the 350cc Model B single.
This required the generator to be mounted vertically to miss the front downtube of the frame, hence the nickname "three cylinder Harley". The era of the pocket valve Model J was over. The Model D was all new for 1929, using battery and coil ignition rather than a magneto, and had removable Ricardo heads. Small headlights were the trend beginning in 1928 and Harley went one better with small twin "bullet" headlights for their models in 1929 and 1930. The primary chain was kept moist with an air/oil mix from the crankcase breather system.
Advertisement
The bike held onto its past with a final year running clincher wheel rims. In a nod to noise nuisance, the bikes featured quiet four tube "Pipes O' Pan" mufflers. The 3-speed hand shift transmission was secured to the frame, a first for the company, and the clutch ran dry under a sheet metal chain guard. In 1929, the price of a Harley Davidson DL was 290$.