In a country with 3.4 million empty homes , architects Aixopluc have created a solution to quickly and affordably make an abandoned property habitable. They call it "Homeful" and it's a modular furniture system that can be reconfigured to make small spaces serve multiple purposes.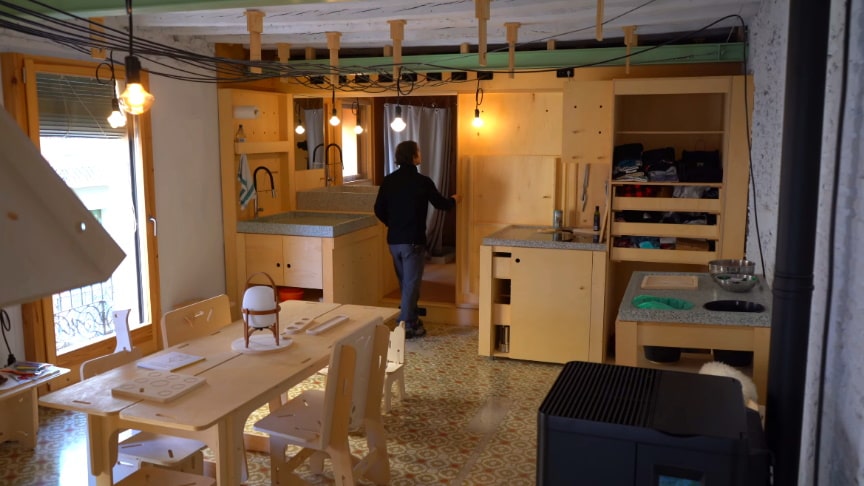 source/image(PrtSc): Kirsten Dirksen
David Tapias and Ricard Pau installed their first experimental home inside a former photographer's studio that had been vacant for 2 years. To maximize the 50-square-meter (538-square-foot) space they placed all the installations to one side – kitchen, sinks, toilet and shower- leaving the rest of the space open for a dining table and an indoor cabin that they call a "tiniest house", which is exactly the size of a bed.
The Tiniest House, as well as the Homeful "enclosures" (walls, floors, ceilings, doors) and cabinets are created from plywood boxes that can be assembled and disassembled by hand.
Advertisement
The system relies on wooden pegs which serve many functions: sliders for drawers, support for shelving or tabletops, hooks for kitchenware and knobs for cabinets.The stand-alone furniture in the home – chairs, tables, benches, stools – is built from LEGO-like CNC-cut pieces that fit together without glue or screws and can be rearranged to go from chair to table to bench to tiny house./Kirsten Dirksen