The Mercedes-Benz Stadium is unlike any other stadium in the world! This video goes through in detail all the different levels, the halo board and retractable roof. The stadium is home of the Atlanta Falcons NFL football team and the the chosen venue for the 2019 Super Bowl LIII (53). It opened in August of 2017.via: Jared Owen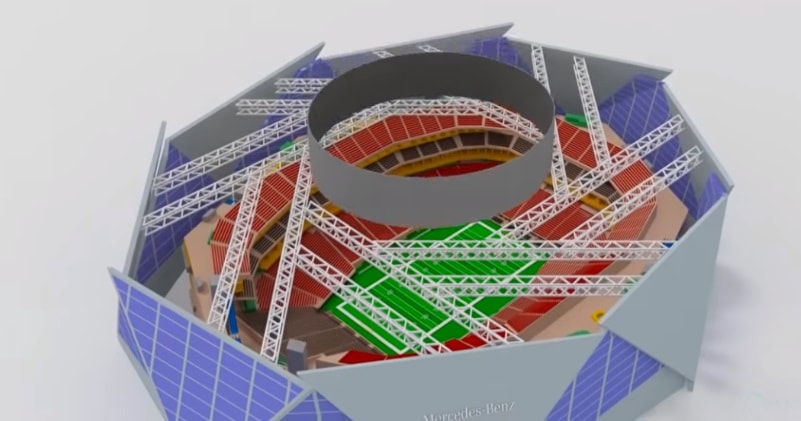 source/image(PrtSc): Jared Owen
It has a retractable roof with 8 petals each weighing 500 tons each. It can open or close in only 8 minutes so that bad weather doesn't have to ruin the game.Watch the video from Jared Owen for more info:
The stadium has a 360 degree halo board so it can be clearly seen from any seat in the stadium. There's also private suites, clubs, and plenty of food choices at decent prices. The stadium would has a maximum capacity of 72,000 seats. A standout feature of the stadium is a one-of-a-kind retractable roof composed of eight, 1,600-ton panels that each cantilever to resemble a camera shutter opening and closing./Jared Owen
Advertisement
The solar power at Mercedes-Benz Stadium use a number of technologies, including bifacial solar panels that can capture sunlight from above as well as sunlight reflected off the asphalt.The stadium saves more than 40-percent in energy use compared to typical stadiums due to an extensive water capture and reuse system, over 4,000 solar photovoltaic panels!