A rainwater harvesting system will cut your home's demand for drinking water by up to 50% and therefore also protect the environment. Using rainwater for toilet flushing, washing machines and watering the garden saves precious drinking water. Rainwater pillow tanks are normally installed in crawl spaces such as underneath a deck or porch. When the collapsible tanks are not in use they can easily be folded up for storage.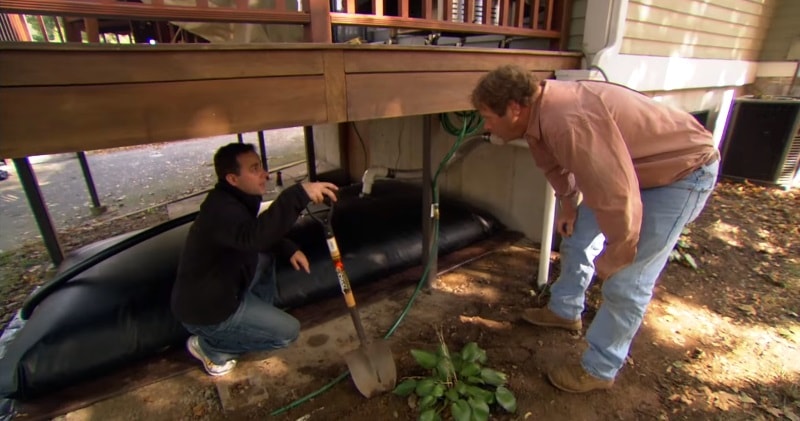 image/text credit: This Old House 
These tanks were designed and manufactured to maximize collection of rainwater during short heavy downfalls. These tanks are ideal when you do not have room for above ground rain tanks.This Old House landscape contractor Roger Cook installs a rainwater collection system for yard and garden irrigation.
Tanks must be installed on a sound, level and smooth surface. Level paving will suffice, or a properly designed tank stand, alternatively a concrete plinth needs to be built. Rainwater is channelled from the roof into the storage tank passing an integrated filter to remove large debris, leaves etc.
Advertisement
Water then enters the tank via an inlet calmer preventing disturbance to fine sediment on the base of the tank. A typical treatment train of filtering and disinfectant devices can be screening, sedimentation, filtration, ultraviolet light exposure, chlorination, anticorrosion additives and reverse osmosis.