Bunkbeds are pretty straight-forward; like any bed, they need a frame, some rails to hold the mattress, and most often a headboard. A bunk bed is just two of those sets, but one is on stilts. My original design looked something like a animal pen with lots of dimensional lumber and rails to prevent the kids from falling.via: I Like To Make Stuff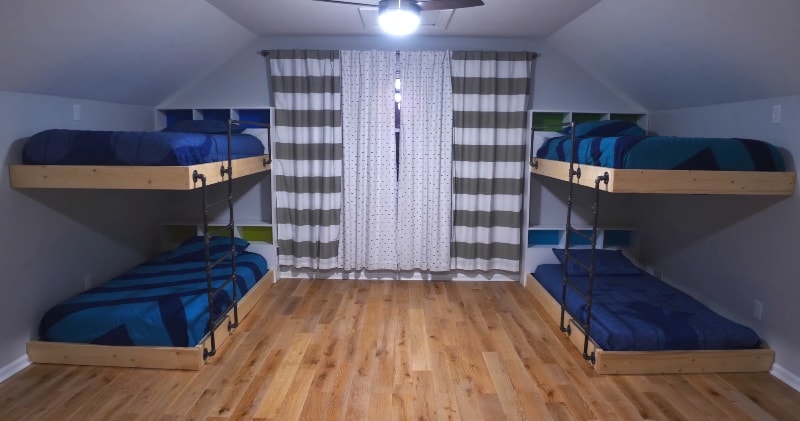 image/text credit(PrtSc): I Like To Make Stuff 
If you've never used iron pipe in a project, be warned, it can get expensive quick (especially for double bunks!). To try and balance the industrial look with non-animal pen construction, we settled on a minimalistic design that is sturdy and functional.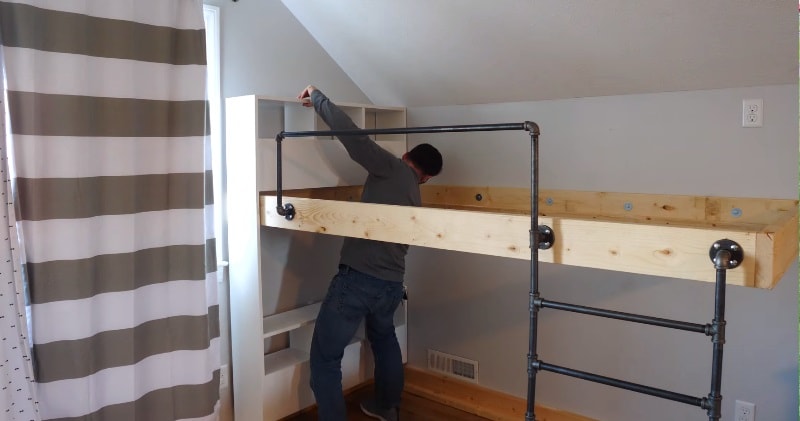 image/text credit(PrtSc): I Like To Make Stuff 
The bed frames are simple 2×6 boxes held together with glue and screws. Where visible, I added some dowel plugs to the screw holes to keep the clean exterior look. I screwed 2×2 runners the length of the frames to hold the 1×4 mattress supports. Because I needed 4 individual beds, I batched out the cutting and the construction.via: I Like To Make Stuff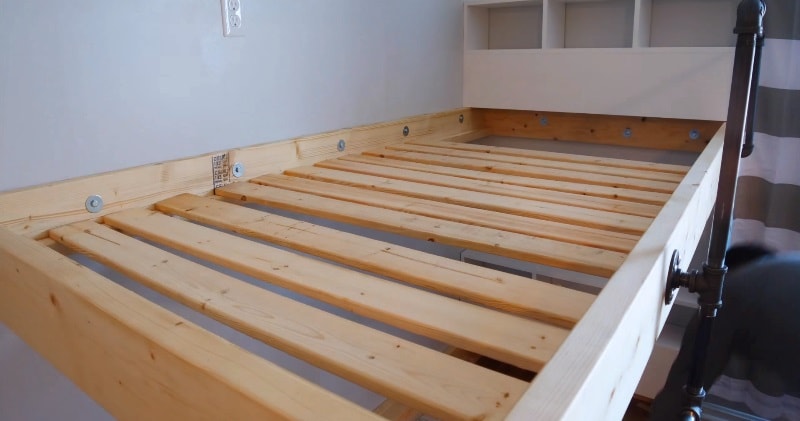 image/text credit(PrtSc): I Like To Make Stuff 
When it came time to mount the beds, I used 3/8 inch lag bolts to attach the top bunks into the corners of the room. I used a temporary brace to hold up the unsupported side of the bed while I drove in the hardware, this keeps the vertical spacing consistent across the bed frames.
Advertisement
Now it was time to piece together the puzzle of iron pipes that would become the guard rail and ladder. Josh and I used the floor at the home center to lay out the arrangement to make sure we bought all the right pieces.The headboards were made out of 3/4 inch plywood and I used some additional dividers to make some storage cubbies for each bed.
I joined the top and bottom headboards with a longer piece of plywood to serve as an additional support for the top bunk. Wanting a pop of color, I painted each headboards' back panel a bold color that can be removed and repainted if the kids change their minds.Once the mattresses were added and dressed up with bedding, this project was done.