Meet the HSP "Magnavem":As a principal power source, the HSP "Magnavem" will be equipped with a Compact Fusion Reactor (CFR-portable) that will power the Hybrid engines, electric airplane systems, CO2 cleaner system & to charge the airplane's batteries.The design of this fusion reactor could be based on the future Lockheed Martin's concept, the "T4B". Actually, there are some concerns about the viability of carrying up this solution on a plane.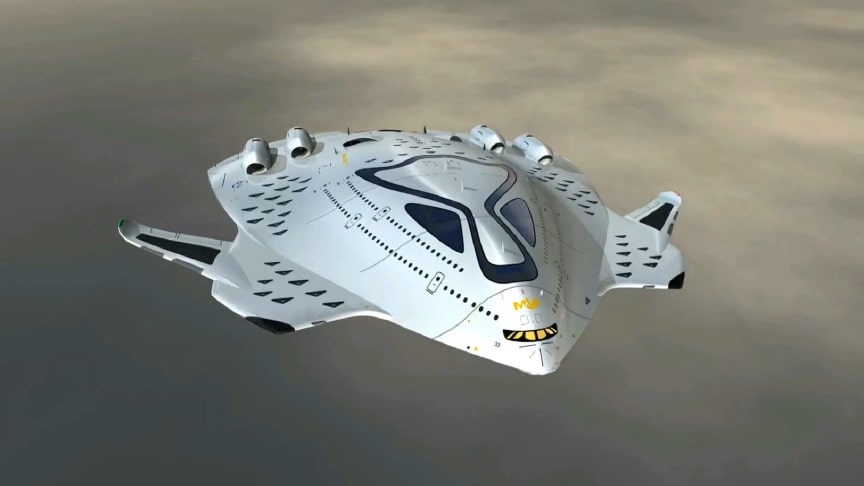 source/image: OVI's Design
Thanks to a combination of several technologies, including graphene, superconductors, magnetic monopole devices, and new plasma accelerators systems, it's capable of taking off and landing on an 800m runway. Inside, you'll find a 2 deck layout with a 500 passenger capacity, complete with a Super Tourist Class that can accommodate up to 360 people. As for speed, it can reach a top speed of Mach 1.5, and with zero emissions.
In order to reach/achieve the highest flying performance, the airplane would be equipped by 206 MD-DBD Plasma actuators (Multi-directional Dielectric Barrier Discharge) that could control the airflow over the fuselage & wings, to maximize the performance at high (supersonic Mach 1.5) & low speed (subsonic), decreasing the airplanes drag, increasing the lift, controlling the air pressure, reducing the Reynolds number – Re – (micro turbulences) and also "dissipating" the Sonic boom.
Advertisement
When the airplane would reach the Supersonic speed the effect that would produce the sonic boom would be mitigated, controlling the air pressure and the airflow over the fuselage & wings thanks to the MD-DBD actuators, the special airplane' shape with sharp edges all around of it & materials, and also using an AI system that would control the transient of subsonic to supersonic speed./via/read more: behance/Oscar Viñals