The Boeing B-17 Flying Fortress is a four-engined heavy bomber developed in the 1930s for the United States Army Air Corps.From its introduction in 1938.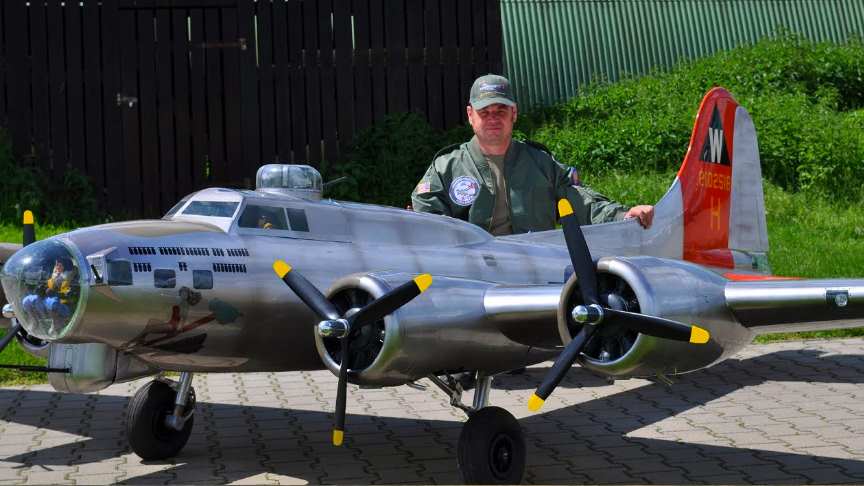 source/image(PrtSc): RCScaleAirplanes
The B-17 Flying Fortress evolved through numerous design advances, becoming the third-most produced bomber of all time, behind the four-engined Consolidated B-24 Liberator and the multirole, twin-engined Junkers Ju 88.
This video shows off the giant scale RC "Aluminum Overcast" B-17, piloted by Peter Pfeffer "Peda" Maßstab. This 1/5.6-scale beast has a 19 foot wingspan, is 14 feet long and is a whopping 187 pounds of retro WWII UAV that took four years to build.
Advertisement
Over 41 inches tall at the top of the vertical fin, the impressive bomber is built using traditional balsa and plywood construction techniques, has scale retractable landing gear and flaps and weighs in at 187 pounds. Powered by four 42cc gas engines, the radio gear is from Weatronic.This plane flys great and Looks like the real one.//RCScaleAirplanes
Pilot: Peter Pfeffer "Peda"
Scale: 1:5.6
Wingspan: 5,70m (19 feet)
Lenght: 4.15m (14 feet)
Hight: 1,06m (41.7″)
Sketch: cdscaledesigns (paperwork ca. 60m ca. 15kg)
Engine: Armin DeVries 4x Vt 42 4T
RC control: Weatronic
Rear Gear: Wabo
Main Gear: Eigenbau – selfmade
Weight: 86.5 Kg (190 pounds)