At 21 ft wingspan this flying RC model replica of the 1928 Beardmore Inflexible Bomber is one of the BIGGEST RC aeroplanes you will ever see. It is pulled along by 3 Zenoah 38 engines. Watch its first graceful flight at a public show and highlights of an earlier flight where one wheel was lost on a touch and go! For some pilots that could have spelled disaster but not for John as it he guided it to a nice landing on 2 wheels.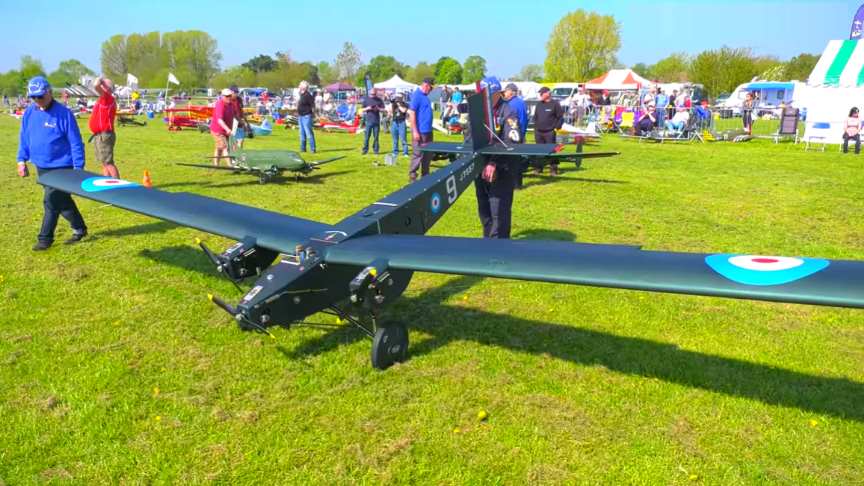 source/image(PrtSc): Essential RC
This model was built by Dave Johnson of the Large Model Association and was acquired by Dave Horton who added further scale detail and brought it to the LMA East Kirkby Show for its first public outing.The Beardmore Inflexible, also known as the Rohrbach Ro VI, was a three-engined all-metal prototype bomber aircraft built by William Beardmore and Company at Dalmuir, Scotland.
William Beardmore and Company had acquired a licence for the use of the Rohrbach principle for stressed-skin construction. Using these principles and drawings supplied by Rohrbach for the RoVI, the Beardmore company designed, what was then a massive all-metal three-engined transport, the Beardmore Inflexible.
Advertisement
The aircraft was structurally advanced for its time and had good flying qualities. It was also a very large aircraft for the time, having a wingspan of 157 feet (48 m) – around 16 feet (4.9 m) greater than the Boeing B-29 Superfortress heavy bomber of World War II. However, with an all up weight of 37,000 pounds (17,000 kg). it suffered from being underpowered and, with no interest in production, the aircraft was dismantled at Martlesham Heath in 1930. It was then used to investigate the effects of corrosion on light-alloy stressed skin structures./Essential RC