HDC-6 NEPTUNE captures Hyundai Motor's vision for zero carbon emission fuel cell electric truck technology and design.Hyundai Translead's HT Nitro ThermoTech® presents a more sustainable green energy refrigerated concept trailer.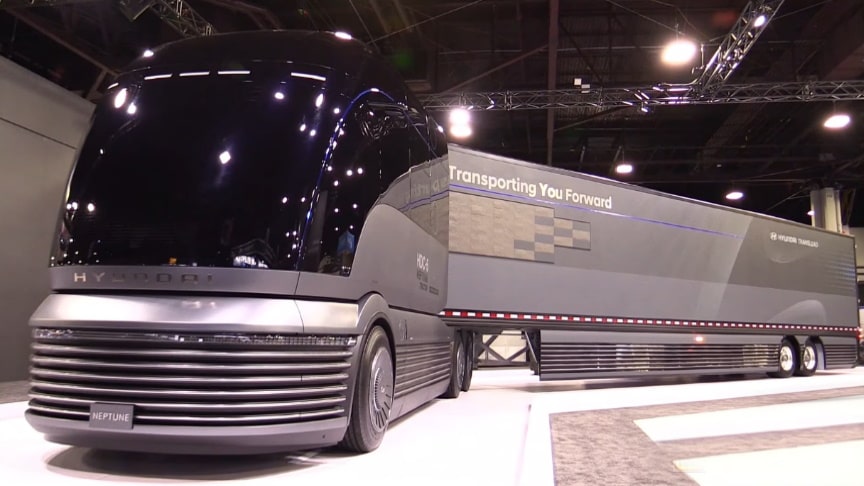 The HDC-6 Neptune tractor is a Class 8 truck, meaning it's the front end of a tractor-trailer combination weighing 80,000 pounds, including cargo. A fuel cell electric truck might have 2,000 to 4,000 pounds of added weight, mostly in the carbon fiber, bulletproof tanks. Enough hydrogen to go cross-country weighs less than 100 pounds.
The HDC-6 NEPTUNE evolves the Class 8 truck, looking toward the future in design, in-cab technology and propulsion system. The concept continues Hyundai's leadership in moving to a decarbonized society and the advancement of zero-emission vehicles. This future truck will add to the company's success in commercial vehicles, which are already sold in 130 countries around the world.
Advertisement
In addition to HDC-6 NEPTUNE's unique construction, fuel cell system and advanced in-cab technology, its modern design draws inspiration from the streamliner railway trainsets of the 1930s with its Art Deco function-driven style. Similarly, the HDC-6 NEPTUNE design team found new ways to combine both form and function to create an entirely unique new solution within the commercial vehicle industry./hyundai