Hyundai Motor Company (HMC) today revealed two new concepts at the North American Commercial Vehicle (NACV) Show. Both concepts add product detail to its Fuel Cell Electric Vehicle (FCEV) 2030 Vision for wide-spread deployment of hydrogen-powered fuel cell technology.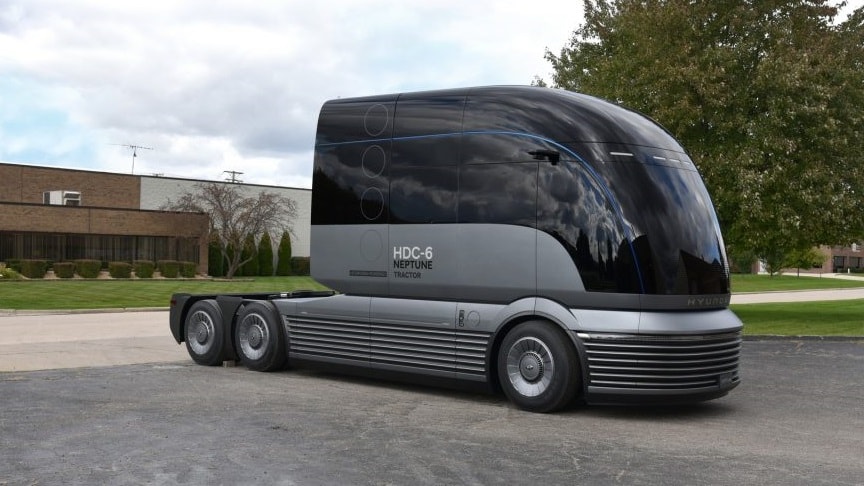 source/image: hyundai
HMC introduced the HDC-6 NEPTUNE Concept Class 8 heavy duty truck, while Hyundai Translead (HT), a leading trailer manufacturer, announced the launch of its new, clean energy refrigerated concept trailer, the HT Nitro ThermoTech®.The tractor-trailer combination provides a window into the future of the transportation in the U.S. and around the world.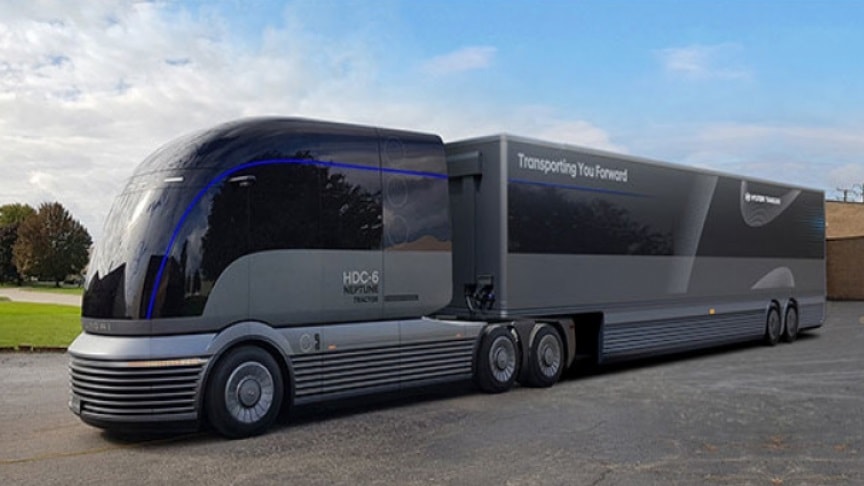 source/image: hyundai
The HDC-6 NEPTUNE evolves the Class 8 truck, looking toward the future in design, in-cab technology and propulsion system. The concept continues Hyundai's leadership in moving to a decarbonized society and the advancement of zero-emission vehicles. This future truck will add to the company's success in commercial vehicles, which are already sold in 130 countries around the world.
Advertisement
The HDC-6 Neptune tractor is a Class 8 truck, meaning it's the front end of a tractor-trailer combination weighing 80,000 pounds, including cargo. A fuel cell electric truck might have 2,000 to 4,000 pounds of added weight, mostly in the carbon fiber, bulletproof tanks. Enough hydrogen to go cross-country weighs less than 100 pounds.
The front of the semi is dominated by a large windscreen which appears to flow into the cab. The semi has also been equipped with digital side mirrors which show images on a unique frame inside the cabin.Besides showing off the HDC-6 Neptune, Hyundai also unveiled their Nitro ThermoTech trailer. Developed in collaboration with Air Liquide, the ThermoTech is a refrigerated trailer that uses a cryogenic nitrogen refrigeration system.