An engine specially desgined for 1/8 RC model cars, which has better compatibility with RC models. The lightweight structure provides a guarantee for subsequent expansion of application scenarios.The NR-200 8.6cc Inline 2-cylinder 4-stroke Water-cooled Electric Start Nitro Engine Model.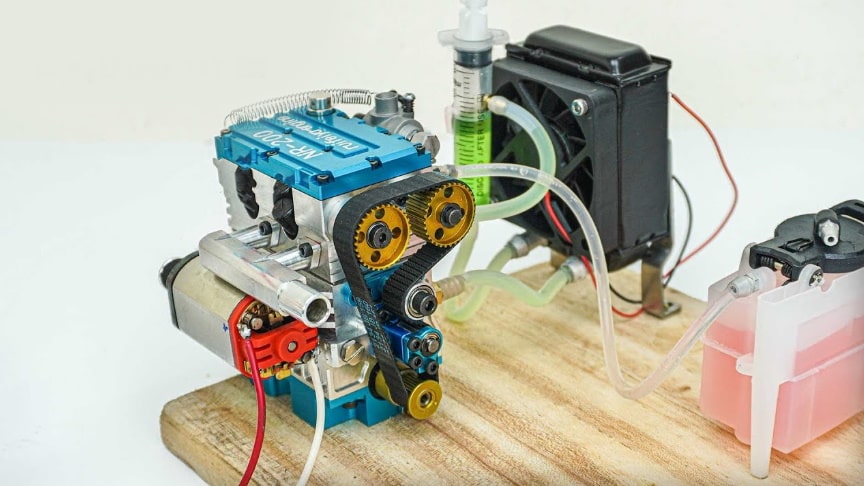 It is made of aluminum CNC machining, sandblasted, anodized and colored, the shape and color are closer to the real engine, and the exquisite manufacturing process ensures the quality and life of the engine.
The engine has a larger displacement and a larger cylinder pressure, and it is easier to start with a starter motor. The adjustable valve and single carburetor design make the engine easier to adjust, the throttle is sensitive, the normal speed range is 3000-18000rpm, and the maximum speed can reach 22000rpm.
Advertisement
It's eqquiped with the asynchronous crankshaft to ensure smooth operation and the more sensitive response under high-speed running. And the built-in centrifugal water pump cooling, the best way of cooling I think, ensures that the engine works more stable for a long time. The adjustable valve can reduce the risk of wearing and replacing spare parts too./more info:/ enginediy
Displacement: 8.6cc (2×4.3cc)
Cylinder: In-line double cylinder
Stroke: Four strokes
Bore Diameter: 18.00mm
Stroke: 17.00mm
Cooling Method: Water cooling
Starting Method: Electric start
Speed: 3000-18000rpm (up to 22000rpm)
Power: More than 1ps
Starting Power: 12V or 3S lithium battery
Product Dimensions: 10.5 x 10 x 9.5cm
Product Weight: 800g