The Streek electric trike from Japanese Envision Incorporated carries two levels of cargo inside a high-rise loop frame compact enough for tight city streets, their T5 version of the trike unveiled in 2021 which is the fifth one is the closest one to the production version.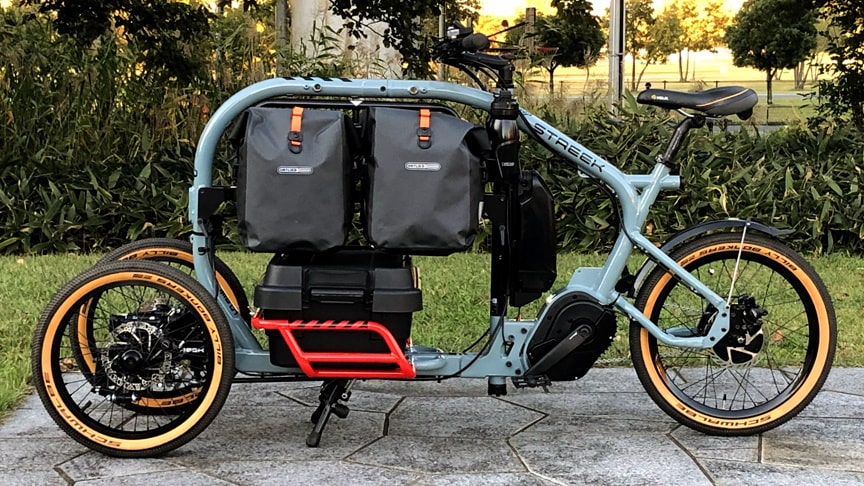 source/image: stroke-design
With the STREEK electric assist cargo trike we want to kick-start the cargo bike lifestyle in Japan. It fits inside the dimensions of a standard bicycle, so it's ideal for Japanese cities, but due to its three-wheel layout, electric assist drive system and low center of gravity the large capacity cargo space sets a new standard for ease-of-use and stability.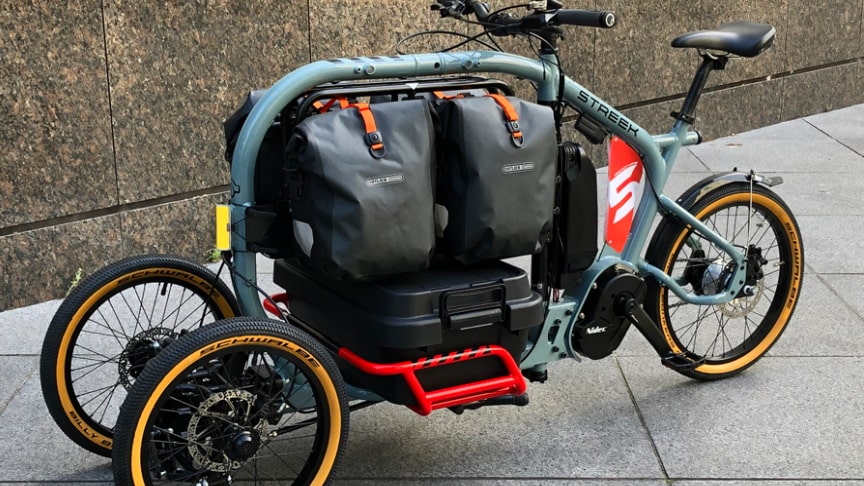 source/image: stroke-design
The most noticeable feature of the STREEK cargo trike is the design-registered surround loop frame. Besides loading heavy cargo as usual straight onto the lower platform, you can suspend loads from the top tube or add easy to reach cases, bags and other accessories.
Advertisement
At 1900mm x 600mm (75" x 24") the frame is very compact compared to overseas cargo bikes. The 18" front and 20" rear tire tricycle layout takes up no more space than a regular bicycle and gives plenty of space for center-mounted cargo, while the long wheelbase offers a stable ride and easy handling.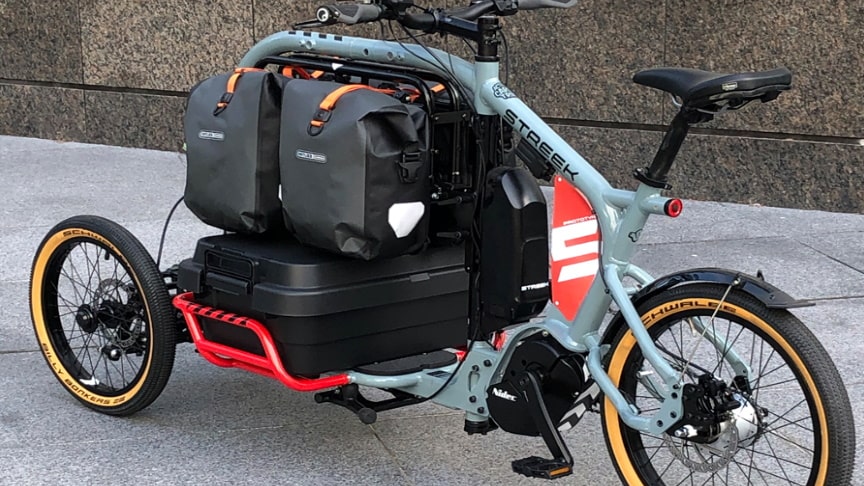 source/image: stroke-design
Good stop-and-go and low- or high-speed cruising performance is available from the powerful mid-mounted 250W motor and eight-speed hub gear set.With the electric pedal assist in play, Streek can reach top speeds of 15-mph, the fully independent front suspension means confident riding with heavy cargo; reliable stopping power comes from disk brakes on all three wheels.
The suspension is self-standing for easy dismounting and loading/unloading, although using the stand is recommended when handling heavy cargo.The cargo space is set low and in the center of the long wheelbase, offering stability inconceivable for a conventional bicycle even when the STREEK cargo trike is fully loaded.Stroke believes that pedal-assisted light electric vehicles with no need for a driving licence are a simple and obvious option for urban mobility. More information on the Streek cargo e-trike websie.