The Jaguar XJR-15 is a truly special car, but most people don't know anything about it. Today I'm reviewing the XJR-15, and I'll show you all the quirks and features of this ultra-rare, ultra-valuable supercar. I'm also doing to drive the XJR-15 and show you what it's like behind the wheel.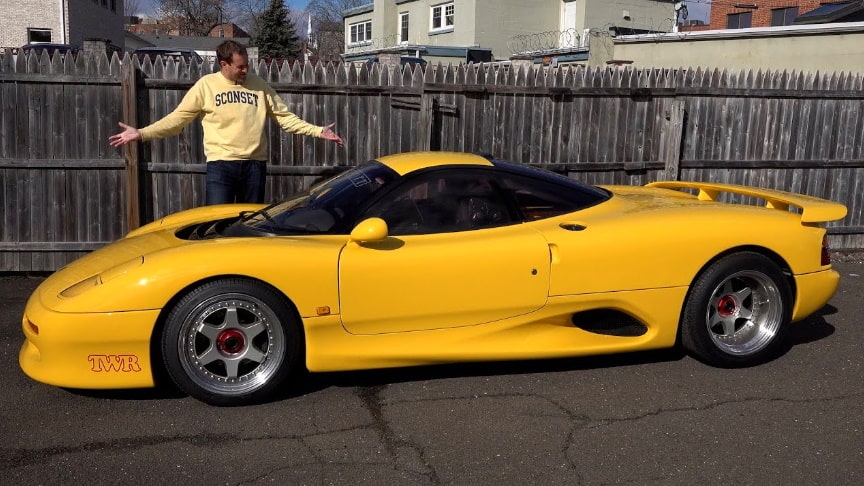 source/image(PrtSc): Doug DeMuro
The Jaguar Sport XJR-15 is a two-seater sports car produced by JaguarSport, a subsidiary of Jaguar and Tom Walkinshaw Racing between 1990 and 1992. Only 50 were planned (although 53 chassis were eventually made).The XJR-15 is powered by a 5,993 cc (6.0 L) 450 hp (336 kW), naturally aspirated 24-valve Jaguar V12 engine.
The engine features an advanced electronically managed fuel injection system with a very advanced (for its time) 'fly by wire' throttle. The standard transmission is a TWR unsynchronised six-speed manual transmission while a five-speed, synchromesh transmission was also available as an optional extra.
Advertisement
The XJR-15's chassis and bodywork are composed of carbon fibre and Kevlar (it was the first road-going car built entirely of carbon and Kevlar composites.A fully independent suspension was used, with non-adjustable Bilstein shock absorbers all round. Front suspension consists of wide-based wishbones and working push-rods to spring damper units mounted horizontally across the centre of the car./wikipedia