Janus Motorcycles is an American manufacturer of small-displacement motorcycles in Goshen, Indiana.Richard takes us through a closer look at the features and specifications of the Halcyon 450 prototype.The Halcyon 450 is another entry into an entirely different category of two-wheeled travel: lightweight motorcycling.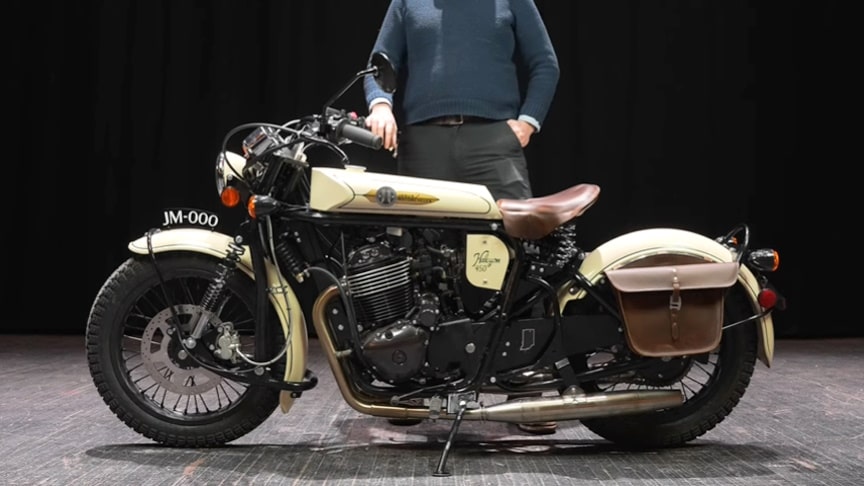 While the entire industry skews to more—more features, more weight, more horsepower, they often neuter the spirit of motorcycling: freedom, empowerment, connection.Ride through time on a hand-crafted, highway ready, one-of-a-kind motorcycle.Watch the video from Janus Motorcycles:
The Halcyon 450 features a elegantly-designed full rear suspension that still highlights the hand-formed fenders and the classic lines that make the Halcyon timeless. Featuring dual IKON shocks, the rear suspension provides additional comfort and performance for higher speeds and longer rides.
Advertisement
Based on the Classic XR400 engine, the SWM 445cc engine is a simple, fuel injected, 4 valve engine that sports 30 hp and a 90mph+ top speed. In our lightweight chassis (360 curb weight), the pairing of power and weight provides a wholly-unique motoring thrill.Single Brembo calipers and master cylinders front and rear are mated with 280mm and 220mm rotors, respectively, and fitted with Spiegler stainless steel lines.
CHASSIS Type: Frame: DOM tubular steel double cradle
FRONT SUSPENSION Type: Proprietary leading-link fork with dual progressive coil-over Ikon shocks
REAR SUSPENSION Type: Proprietary cantilever transom with dual progressive coil-over Ikon shocks
Wheels: CNC machined aluminum hubs with aluminum alloy rims and stainless steel straight-pull spokes
Tires: Front 4.00 x 18, Back 4.50 x 18
Instrumentation: Digital tachometer