John spent 15 years building his home and all the furniture, mostly with lumber from the woods of his Long Prairie (Minnesota) homestead, and much of it hand-hewn with a broad ax, so when, one summer, his visiting mother-in-law announced she had bought an old log cabin for $20, he was ready.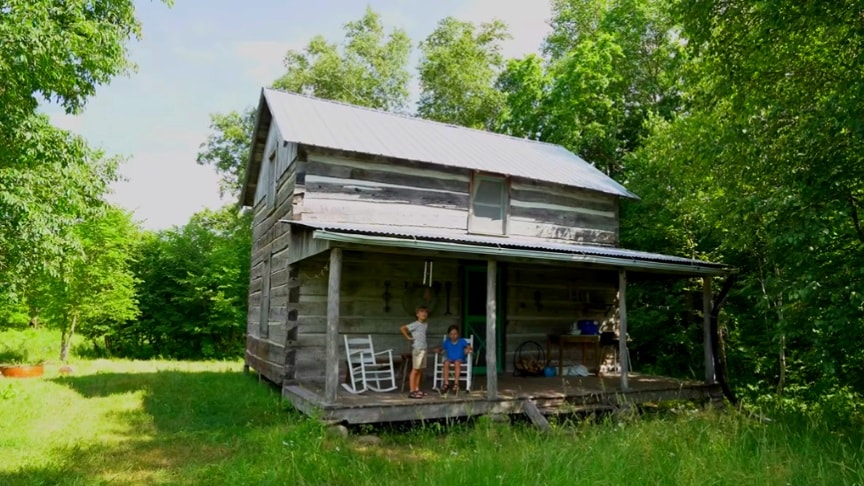 source/image: Kirsten Dirksen
Originally built around 1870 by John Maynard (a settler from Kentucky who fought for the Union and post-war had been forced to flee his home state), the structure had been collapsing on a neighbor's property who was only too happy to be rid of "that old dump" (he had been planning on burning it down that summer).
John and his brother piled the numbered logs one by one onto a hay wagon and he and his wife Ruth spent two summers reconstructing the Civil War era shelter a mile away on their spacious homestead. He replaced rotted logs and floor planks and crafted new windows, doors and stairs.
Advertisement
In keeping with the original time period, the cabin is without electricity and John's wife, Ruth, equipped it with kerosene lamps and a kerosene stove for cooking (plus a wood-burning stove for heating). It's not plumbed, but a rain barrel supplies water for cleaning dishes, outdoor showers or wash tub baths. The outhouse is a short walk from the home, but John thinks this only adds to the experience, "You have to put your coat on and get cold or swat a few mosquitos, but it's good for the soul. Perhaps we've conveniences our real life away someplace."