It's hard to believe how much equipment can fit into a camper van and how noble a compact holiday vehicle can look. In the BOXSTAR 600, we combine state‐of‐the‐art technology such as LED lighting, optimal insulation with comfort features from the upmarket motorhome sector.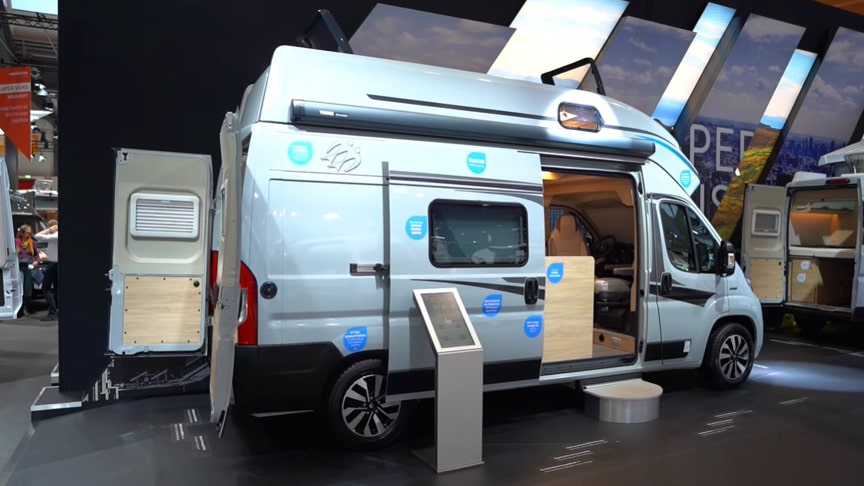 With full‐body construction furniture, soft‐touch trim and various bathroom variants, we ensure high living comfort with extremely compact dimensions and highly dynamic handling. That makes the BOXSTAR 600 a star on country roads, a star on the motorway and a star for a whole CAMPER VAN GENERATION!
Across the entire length – The BOXSTAR 600 LIFETIME – a sleeper's paradise with longitudinal beds measuring up to two metres.More room for the whole family – In the BOXSTAR FAMILY, you'll have a large sleeping area with two traversal beds one above the other in the rear of the vehicle.Variable bench – The seat can be adjusted in different directions for more freedom of movement and ergonomic travel.Spacious holiday companion – Transversal beds located above one another and a spacious seating area with floating dinette table.
Advertisement
In the BOXSTAR family, there is room for friends and the entire family.Cool device – With a volume of up to 90 litres, the camper van refrigerators offer extra space and are particularly quiet thanks to night setback.2‐flame cooker – Fast and easy use of hobs thanks to electric ignition.Standard compact bathroom – Sliding mirror, numerous shelves and optimised legroom ensure maximised benefits.The boxtas 600 wheelbase is a FIAT Ducato 3.300 kg 2.2 l 120 Multijet; front-wheel drive; Euro 6d-Final (88 kW/120 HP), 6-speed manual gearbox.