They were running out of space in their two bedroom bungalow for a family of four, a home office and frequent family visitors so Gennifer Leong-Alvarado and Pastor Alvarado decided to copy their neighbors who had recently torn down their garage to replace it with a backyard home.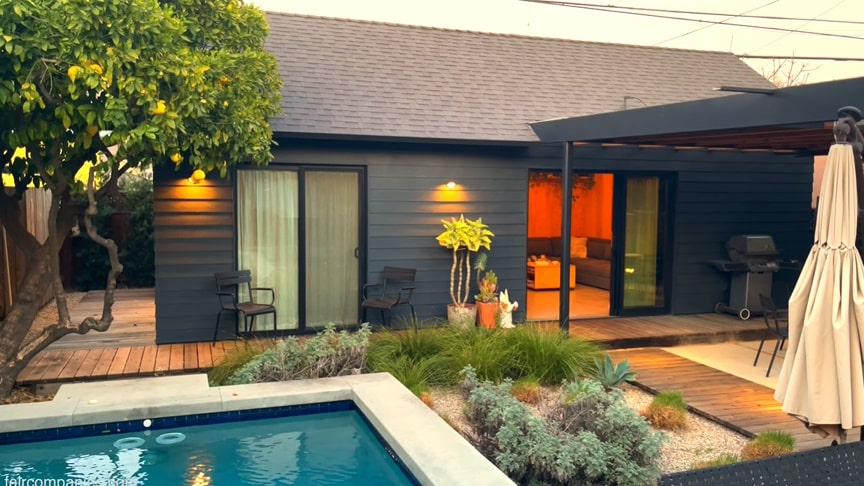 source/image(PrtSc): Kirsten Dirksen
They called on Rebecca Rudolph and Catherine Johnson of Design, Bitches – the same architects who had made over their neighbors yard – and soon their tiny garage and cement driveway was being torn apart to make way for a spacious ADU (Accessory Dwelling Unit) and a backyard they would really use.
Gennifer explains, "I never went behind my garage ever because it was kind of like a dead zone." Rebecca says this is common. "What we've figured out over time is that people will go 10 feet out from their living space, so if we'd just converted the garage, they would have stayed in this section of the yard, so by putting it in the back, they'll use the whole thing."
Advertisement
Today, in the former "dead zone" sits their backyard cottage that serves as Pastor's office, as well as a home for their parents (who are frequent visitors). Their old, cement driveway is now a grass soccer field used constantly by their 10-year-old. And now, all the space between their home and the tiny home is used; there's a swimming pool, a fire pit, a covered outdoor dining area, a hammock and a boardwalk that connects the two spaces and gives the space a vacation-type feel.