This RC model of Concorde is as cool and impressive as the original.That is the most powerful RC Airplane with totaly 1200 newton Thrust. 1 newton are 0,102kg Thrust we have here 4x JetCat P300 Turbine each of this Turbine have 300 Newton Thrust totaly 122,4Kg Thrust power to 149Kg weight of the Model.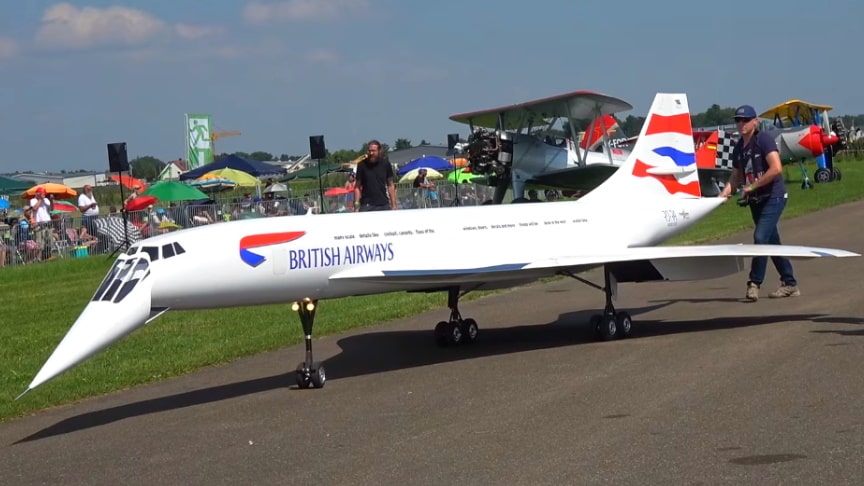 source/image(PrtSc): DIGITAL RC
This Concorde have a Length from 33 Feet and the Cockpit can move down Like the Original to see the Runway during the Takeoff and Landing.The fuselage and wings are made of carbon fibre sandwich.
The inspiration for this RC Concorde comes from the famous Concorde passenger jet, a turbojet powered supersonic airplane that operated until 2003. The pilot of this airplane in this video is Otto Widlroither.
Advertisement
The cockpit even has a fully functioning "droop-nose" just like the real thing.The primary users of the Concorde passenger jet were British Airways and Air France, and that is probably why the RC aircraft in this interesting video is painted in the colors ofBritish Airways./DIGITAL RC
Model: Concorde
Pilot: Otto Widlroither
Scale: 1/6
Wingspan: 4,00 m
Length: 10,00 m
Height: 1,85 m
Take-off weight: 149 kg
Turbine: 4x JetCat P300 Pro
Fuel Tanks Capacity: 4 x 6 Liters
Gears: Pneumatic
Radio: PowerBox CORE
Receiver: PowerBox PBR-26D
Servos: 18x HACKER TD2612S
Air Tank: 30 liters